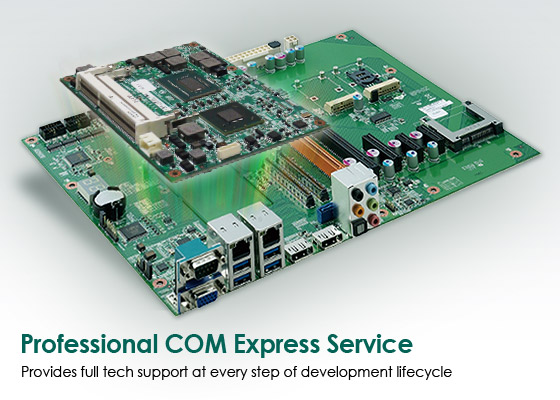 The success of COM Express design-in project depends on intensive technical support. By offering a series of Starter Kit and professional assistance at every step of the product development lifecycle, NEXCOM Computer-on-Module Competence Center Service (CCC Service) can make every design-in a design-win.
| | |
| --- | --- |
| | The CCC Service provides clients full engineering design support, no matter if they have their own carrier board or design expertise. To gain a head start, the CCC Service has prepared the COM Starter Kit to help clients evaluate and verify full computing capability, peripheral and communication interfaces of the selected NEXCOM COM Express modules. Along with complete design reference documentation and expert advice from NEXCOM engineers, clients can simply customize a reference carrier board to application needs while ensuring the changes are both practical and feasible. |
Going beyond to system level, the CCC Service further takes part in on-site co-debugging, thermal and environmental validation and the following mass production. In addition,COM Express board products are offered with value-added features and extended warranty so that systems can operate in even harsh operating environments.

By providing full tech support at every step of COM Express solution development cycle, the CCC service ensures end systems built on NEXCOM COM Express modules operate the way they are designed to. As a result, clients can easily speed COM Express solutions to market while reaping the benefit of future-proof COM Express architecture.
Join NEXCOM COM Design Partner Program and kick off the COM Express design-in project with NEXCOM Starter Kit.
Ordering Information
ICEK –T2 (COM Express modules are subject to request)
Type 2 COM Express modules based on the 3rd Generation Intel® Core™ processor family or Intel® Atom processor, reference carrier board ICEB 8050C, built-in 4GB system memory, pre-installed trial version of Microsoft Windows® 7, bootable mini-SATA or CFast-SSD, 10.4" LCD panel and Flex ATX PSU AC 110/220V input
ICEK –T6 (COM Express modules are subject to request)
Type 6 COM Express modules based on the 3rd Generation Intel® Core™ i7/ i5/ i3 processor paired with mobile Intel® QM77 express chipset, reference carrier board ICEB 8060, built-in 4GB system memory with ECC function, pre-installed trial version of Microsoft Windows® 7, bootable mini-SATA or CFast-SSD, 10.4" LCD panel and Flex ATX PSU AC 110/220V input