COM solution project often run in the critical environment like kind of handheld, mobile or portable devices. In addition to the usual military and harsh industrial environments that demand conformal coating, NEXCOM expand our conformal coating to Vehicle Telematic Computing, outdoor traffic control/surveillance, and off-shore Marine applications. These applications demand embedded computing performance with increased reliability through conformal coating process.
Conformal Coating Compliant with IPC-A 610/ IPC-CC-830/IPC J-STD-001E NEXCOM recognizes the harsh reality that many embedded systems find themselves operating in unusual hostile environments. When conformal coating is required to protect your application against substantial humidity, dust, chemicals or temperature extremes.
Non-Standard Coating Service for Cost Effective Solution NEXCOM specialize in customizing coating service for each vertical market segment and find the most cost effective way to protect your products. Our professional conformal coating service team can identify the specific needs in your applications and offer different cleaning/coating service base on your budget.
NEXCOM uses automated Conformal Coater equipment for applications that require a high level of accuracy and repeatability in moderate to high volume manufacturing environments. "State of the Art" coating line is a closed-loop robotic platform featuring optical encoder feedback on all axes.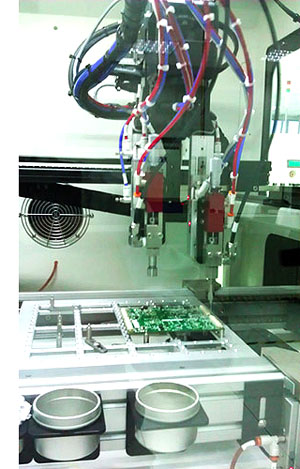 Smart Masking Technology
Our smart masking technology can pin point specific area on the PCBA for coating. The green, programmable conformal coater equipment allow user to only coat the area selected, which save labor/material costs.
De-Flux Cleaning
To prepare a PCB for conformal coating, the circuits need to be cleaned. NEXCOM uses automatic defluxing and cleanliness testing systems. The deflux system is equipped with an automatic chemical management system that automatically doses and mixes defluxing chemicals at the turn of a keyed switch.
To counter against these possible intrusions, NEXCOM's conformal coating service is a good option to protect your product when exposure to unique environmental circumstances is inevitable. Conformal coatings can also temper mechanical vibrations that might stress electronic circuits.
For detail of conformal coating services links to
https://www.nexcom.com/news/Detail/get-ruggedized-with-nexcom-s-cost-effective-conformal-coating-de-flux-cleaning-service