NEXCOM has launched 1U security hardware NSA 2120 which has been specifically designed for network processing as the growth in network communication fuels concerns about network security. Supporting several processors, including the Intel® Xeon® processor E3-1125C, and paired with the Intel® communications chipset 8910, NSA 2120 places a premium on security functions, increasing responsiveness of security hardware and supporting high-speed fiber communications. NSA 2120 can therefore reinforce network security and relieve network bottleneck for network security appliances.
"The ever-expanding workload of network processing may lead to gaps in security or traffic congestion as network communication booms. Based on the new Intel platform, NSA 2120 dedicates computing resources to core tasks, thus improving transactions per second (TPS) of VPN, firewall, intrusion detection/prevention or anti-virus applications which NSA 2120 is designed for" said Hadwin Liu, director of product management, NEXCOM Network and Communication Solutions Business Unit.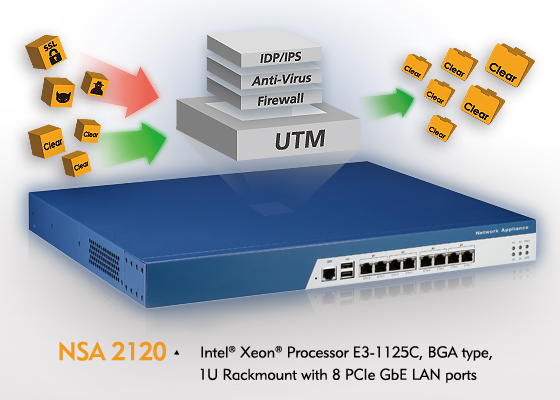 "The Intel® Communications Chipset 89xx series paired with one of several compatible Intel processors consolidates application, control and packet processing onto one platform," said Steve Price, general manager, Intel Communications Infrastructure Division. "Intel® QuickAssist Technology supports packet cryptography and compression while using the Intel® Data Plane Development Kit (Intel® DPDK) to accelerate packet movement. The consolidation of functions enables security hardware, such as NSA 2120 from NEXCOM, to handle many more secure transactions without the cost of discrete specialized components."
NSA 2120 provides scalable computing power by supporting a wide range of processors. Ranging from Intel® Xeon® processor E3-1125C to Intel® Celeron® processor 725C paired with Intel Communications Chipset 8910, the security hardware NSA 2120 has up to four computing cores, 8MB cache and 32GB DDR3 memory. Along with Intel® QuickAssist Technology, NSA 2120 brings real gain in system-level performance and network throughput.
In addition, NSA 2120 relieves network bottlenecks from both inside and outside. By means of Intel® I/O Acceleration Technology, I/O latency is decreased, speeding up data transfer rate across the security hardware. In the meanwhile, NSA 2120 incorporates up to eight fiber optical ports, enabling high-speed connection across network nodes. To seek greater efficiency and higher performance, NSA 2120 also offers one PCIe x8 slot for function expansion.
Main Feature
From Intel® Xeon® processor E3-1125C to Intel® Celeron® processor 725C
Intel® Communications Chipset 8910
8 LAN ports
One PCIe x8 expansion slot
Two SATA interfaces