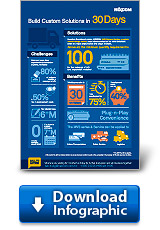 The shorter the development cycle, the greater the chance of a project win. From our long years of experience in the telematics markets, we found numerous challenges including frequent redesigns of I/O interfaces, high research cost, long development cycle, delayed time-to-market, and virtually no vendors taking on projects due to low MOQs.
As system requirements vary by project, NEXCOM is rolling out MVS Express Service, a custom module design service that can help clients fast-track and facilitate the development of custom-built solutions. The MVS Express Service can help clients customize the I/O and expansion interfaces to unique project needs with plug-in modules. The service is ideal for public transportation, public services and logistics.
Leveraging MVS Express Service, NEXCOM modular in-vehicle computers, such as the recently released MVS 5600 series, can be customized to unique project needs in just 30 working days. The I/O modules or expansion modules can be customized or replaced without changing anything else in the computer system, saving the need to validate the rest of the system functions besides the new modules. If any new specification or further enhancement is required, the modules can be individually upgraded before being reintroduced into the same computer system.
In addition, the MVS Express Service benefits clients in many ways such as plug-and-play convenience, reduced development cost, faster time-to-market, and low MOQ of 100 units. Clients can enjoy all the benefits of MVS Express Service with the MVS series and speed up time-to-market of custom-built solutions.
Contact NEXCOM today to learn more.