Predictive maintenance allows manufacturers to address failure risks lying in plants in early phases. But making accurate predictions takes experts with domain knowhow and cannot be afforded by most manufacturers. Cloud analysis tools incorporating mathematical models created based on historical data and patterns of reference cases emerge as a practical alternative to manufacturers. For analysis to be run manufacturers can simply collect and send data and information generated on the field to the cloud.
To meet the needs of data acquisition and communication, NEXCOM cloud-ready IoT solution integrates critical hardware and software components. Based on Intel processors, NEXCOM IoT Gateway offers a universal hardware platform to bridge the last mile gap between the edge and the cloud while NEXCOM IoT Studio software simplifies the implementation of data handling policies, third-party cloud service integration, and gateway management in edge servers. Also, Wind River® Intelligent Device Platform and McAfee® Embedded Control can be pre-integrated to protect IoT gateways from security threats.
Build End-to-end Connectivity
Manufacturers require IoT gateways to provide end-to-end connectivity for monitoring and maintaining manufacturing assets. To be useful, IoT gateways must be able to extract information from field data and transfer information to the cloud for analytical, archival, or other purposes. NEXCOM IoT Gateways provides strong support for multiple industrial communication protocols and flexible configuration, enabling manufacturers to set up wired and wireless heterogeneous networks comprised of field devices, enterprise intranet, and the internet.
Bring Intelligence to The Edge
With data channels opened, the volume of machine- and sensor-generated data gushing into IoT gateways can be overwhelming and stress network resources at peak hours of data transfer. To simplify the implementation of data handling policies, NEXCOM edge server installed with the programming tool NEXCOM IoT Studio offers a web-based graphics user interface (GUI) for network provisioning. Providing a click-to-connect command and pre-integrated third party application programming interfaces (API), this solution allows manufacturers to create granular policies, defining physical connection interfaces, data collection intervals, network protocols, data parsing rules, and data receiving ends for every device connected to NEXCOM edge servers like NIFE 200. For manufacturers with special protocol needs, NEXCOM IoT Studio includes add-on support for proprietary protocol expansion.
NEXCOM edge server will parse the incoming data into small pieces, extract the pieces that matter to manufacturers, convert the pieces into pre-defined formats so that they can be recognized by receiving ends, and then send the pieces to private enterprise clouds, IBM Bluemix, or Axeda Machine Cloud Service.
In addition, NEXCOM edge server can perform preliminary data analysis on the edge, as well as event management. Since NEXCOM edge server can make sense of sensor readings — for instance a pH value — it can decide whether a response is required and incorporate cloud application services to take actions like issuing alert messages via short message services (SMS) or emails. NEXCOM edge server can also help distribute over-the-air update packages if IoT gateways need updating.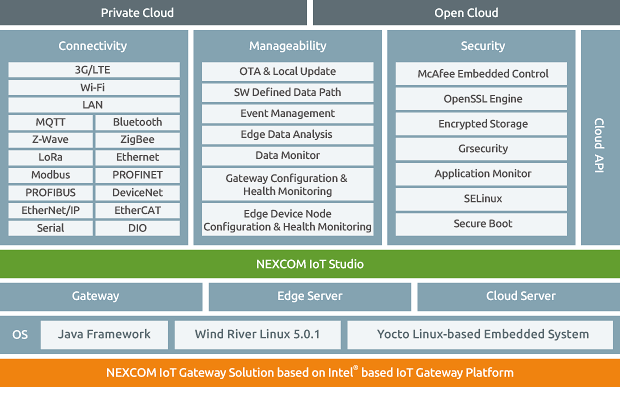 Figure 1. NEXCOM IoT Gateway integrates critical hardware and software components to meet the challenges of deploying IoT gateways.
Secure Data from The Bottom up
With productivity at stake, it is important to keep IoT gateways up and running as well as protected from unauthorized access. With pre-integrated Wind River Intelligent Device Platform XT and McAfee® Embedded Control, the security protection is enforced from system boot to operations and allows only trusted software to run while stopping applications that have been tampered with. Also, the built-in OpenSSL engine can encrypt and decrypt data to avoid in-transit data manipulation. NEXCOM IoT Gateway lifts barriers to data communication, seamlessly and securely integrating industrial networks with business intranet and the cloud (see figure 1).
Predictive Maintenance Solution
In the practice of predictive maintenance machine vibration is detected by sensors and processed by the Fast Fourier Transform Time-Frequency Conversion. The processed data, formatted into spectrum, waterfall, orbit, and overall wave forms, is then collected by NEXCOM IoT Gateway NIFE 200 and sent to the predictive maintenance SCADA NEXCOM NISE 3600E. With the seamless integration to cloud services where mathematical modules are applied, health status of industrial machinery including power generators, chillers, pumps and others can be closely monitored and analyzed to reduce unexpected downtime (see figure 2).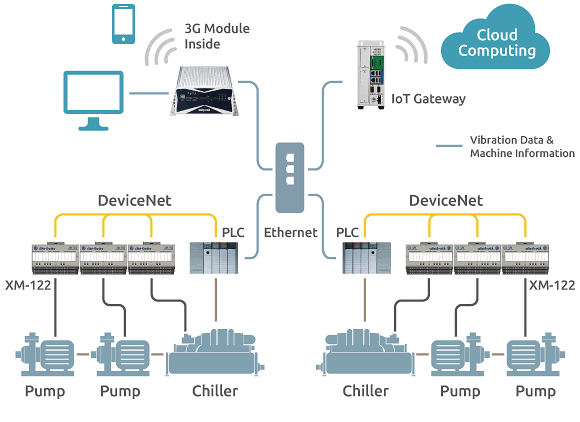 Figure 2. IoT gateway application