NEXCOM's modular vehicle computer systems allow quick customization for specialized truck, securing project wins for system integrators (SIs). The MVS series has packed two levels of computing performance, a rich set of I/O interfaces, and four mini-PCIe slots in a compact IP65-rated enclosure. These modular vehicle computer systems can meet general function requirements and build up application-specific capabilities with easy expansion, shifting specialized trucks into a high gear in refuse management, sewage service, long haul transport, construction and mining logistics, and more.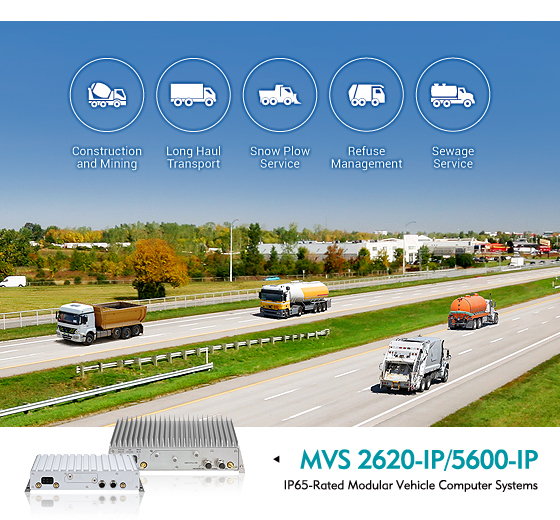 To ensure rigorous practice of day-to-day truck operations, the IP65-rated modular vehicle computer systems provide high-performance computing with 6th Intel® Core™ processors on the MVS 5600-IPK and energy-efficient computing with Intel Atom® processor on the MVS 2620-IPK. The MVS series can automate workflow processes including handling work requests, logging operational data, and improving proof of collection (POC) and delivery (POD). Transport safety and security of assets can also be enhanced by the MVS series with the implementation of blind spot monitoring and driver authentication.
For the above scenarios to unfold, a broad array of I/O interfaces on the MVS series is ready to come into force. For instance, the MVS series can aggregate real-time vehicle information from microcontroller units (MCUs) over CAN bus, communicate load capacity, volume, and distance measurements with sensors through serial signals, live stream views from backup cameras via GbE connections, and warn people in the immediate vicinity of a truck by activating sirens with output signals. Meanwhile, route navigation and location tracking are undertaken by a built-in GPS, G-sensor and optional dead reckoning.
To add extra functionality or custom features, the modular vehicle computer systems enable quick customization with four mini-PCIe slots, so SIs can configure the systems by project with Wi-Fi/LTE/3G modules for data communication, video capture cards for analog image processing, OBD-II J1939 and J1708 protocols for on-board diagnosis functions. For application-specific functions, custom-designed modules can be built upon request.
To deliver reliable system performance, the MVS series is engineered with robustness and protections suited to harsh operating environments on special trucks. Arriving in a compact size, these IP65-rated modular vehicle computer systems can fit in a confined space, prevent water and dust ingress, and have a temperature range from -30°C to 70°C to withstand rain and the outdoor nature of the work. Also, I/O contacts are reinforced with screw connections to assure continuous data exchange to and from the systems despite shock and vibration.
Main Features
IP65-rated rugged design
Intel® Core™ i7-6600U, i3-6100U or Intel Atom® x7-E3950 processor
Built-in GPS with optional dead reckoning
4x mini-PCIe slots for optional WLAN/3.5G/LTE/OBD-II SAE J1939/J1708
CAN2.0B & GPI/O with electrical isolation
Rich I/Os: GbE, USB2.0/3.0, serial, SATA, CFast
Compliant with E13, ISO 7637-2, and MIL-STD-810G
9~36VDC with ignition control
Ordering Information
MVS 5600-3IPK (P/N: 10VS0560005X0)
Intel® Core™ i3-6100U processor, 2.3GHz, 2GB DDR3L, industrial grade, 2x GbE, 3x RS-232, 2x RS-485, 2x USB2.0, 1x USB3.0, 1x CAN 2.0B, VGA output, 12VDC output
MVS 5600-7IPK (P/N: 10VS0560004X0)
Intel® Core™ i7-6600U processor, 2.6GHz, 2GB DDR3L, industrial grade, 2x GbE, 3x RS-232, 2x RS-485, 2x USB2.0, 1x USB3.0, 1x CAN 2.0B, VGA output, 12VDC output
MVS 2620-IPK (P/N: 10VS0262000X0)
Intel Atom® x7-E3950 processor, 1.6GHz, 2GB DDR3L, industrial grade, 2x GbE, 3x RS-232, 2x RS-485, 3x USB2.0, 1x CAN 2.0B, VGA output, 12VDC output
Optional VIOB-CAN-04 (P/N: TBD)
CAN Bus 2.0B mini-PCIe module
Optional VIOB-CAN-05 (P/N: TBD)
OBD-II SAE J1708 mini-PCIe module
Optional VIOB-CAN-06 (P/N: TBD)
OBD-II SAE J1939 mini-PCIe module