NEXCOM video wall player NDiS B866 packs a visual punch with six-display support to inspire, impress, and lure. The NDiS B866 offers stunning visuals, flexible display grid configurations, and ease of management through the life cycle. The NDiS B866 can scale up the impact and value of video walls by creating impressive multi-display signage in the retail sector, Industry 4.0 war room in the manufacturing industry, surgical display and imaging in the field of medicine, real-time traffic monitoring in the domain of transport, and more.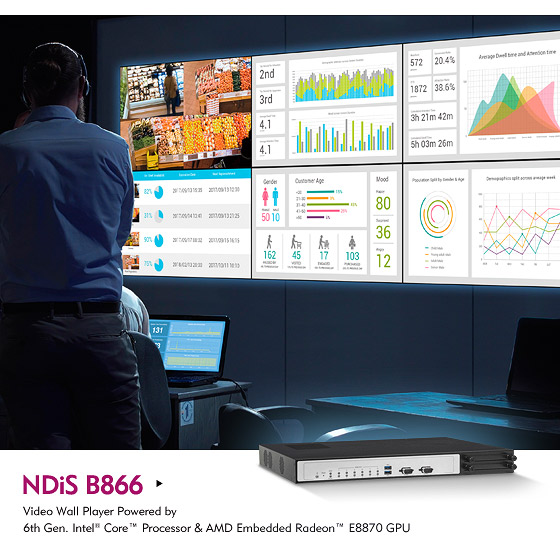 The NDiS B866 is equipped with outstanding graphics performance to recreate the sophistication and vividness of 4K Ultra HD content. Featuring 6th generation Intel® Core™ processor and AMD Embedded Radeon™ E8870 MXM module, the video wall player can present amazing visuals, fine details, great color depth, and a holistic view of operations and activities on a grid of up to six panels, underpinning information delivery, image visibility, and operational transparency required of applications. For multi-screen setups, the NDiS B866 delivers not only a feast for the eyes but also value for money by reducing the number of required video wall players and thusly software licenses.
Managing a video wall player through its life cycle is easy with the NDiS B866. Starting from installation, six unified HDMI ports on the back side of the NDiS B866 facilitate the wiring while its slim 1U rackmount form factor can easily fit in a server rack or a back office. During the course of operation content can be uploaded and the player maintained efficiently over the network. Thanks to Intel® Active Management Technology, system engineers can use out-of-band access for remote configuration, inspection, and troubleshooting, restoring the NDiS B866 to its optimal condition even when the player is powered off or the operating system fails.
As to maintenance requiring a field visit, the NDiS B866 is engineered for flexible system upgrade and fast component replacement to reduce system downtime. For instance, the video wall player can support next generation video codecs and a higher display resolution with the change of graphics card module. Additionally, the NDiS B866 provides high data availability of RAID 0/1 with two 2.5-inch hard drive bays which can be externally accessed to set the stage for a quick swap in case of HDD failure.
Main Features
6th generation Intel® Core™ processor
AMD Embedded Radeon™ E8870
6x HDMI output (4K2K resolution support)
Compact 1U chassis design
Dual removable HDD trays with RAID 0/1 support
Video Wall Supported Matrix
| | |
| --- | --- |
| Number of Display | Grid Configuration |
| 2 | 1 x 2 |
| 2 | 2 x 1 |
| 3 | 1 x 3 |
| 3 | 3 x 1 |
| 4 | 2 x 2 |
| 4 | 1 x 4 |
| 4 | 4 x 1 |
| 5 | 1 x 5 |
| 5 | 5 x 1 |
| 6 | 1 x 6 |
| 6 | 6 x 1 |
| 6 | 2 x 3 |
| 6 | 3 x 2 |
Ordering Information
NDiS B866 (P/N: 10W00B86600X0)
Multi-Display video wall player with 6x HDMI ports