NEXCOM paves the way for future network communication with 25 Gigabit Ethernet (GbE). To help transform network infrastructure for the upcoming 5G era, NEXCOM's LAN module, NV 120F, features a 25 GbE bandwidth for high network throughput and hardware-assisted virtualization acceleration. The NV 120F can consolidate network workloads, manage network I/O activities, and unlock I/O bottlenecks so that enterprise network security solutions can build up I/O density and data centers scale up performance without suffering I/O degradation.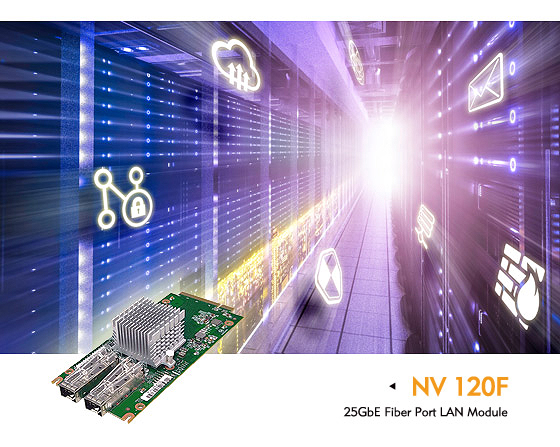 NEXCOM's 25 GbE LAN module makes it easy for enterprise network security solutions to transit to 25 GbE, 50 GbE, and even 100 GbE networking. The NV 120F comes with two 25 GbE fiber connections, each delivering 25 GbE over a single lane. Compared with 10 GbE, the NV 120F delivers 2.5 times of bandwidth which allows security appliances to take on more network traffic without the need to deploy more servers. Moreover, 25 GbE has greater port density than 40 GbE using four lanes, offering a cost- and power-efficient upgrade path for network security and communication.
The NV 120F is also equipped with several I/O virtualization technologies fit for network functions virtualization (NFV) applications. As the number of virtual machines (VMs) increases, the 25 GbE LAN module can enhance I/O sharing and performance with Single-Root I/O Virtualization (SR-IOV) which allows I/O resources to be assigned to virtual functions (VFs) and shared by multiple VMs without the involvement of a virtual machine monitor (VMM). Based on the same technology, instant Quality of Service (QoS) can also be achieved without the use of physical ports. Meanwhile, the Virtual Machine Device Queues (VMDq) can reduce CPU overhead for I/O processing by offloading packet sorting and routing workloads from VMMs and creating parallel data I/O paths to avoid I/O performance degradation. As a result, the NV 120F can help optimize CPU utilization by saving valuable computing resources for key network applications and therefore improve overall system performance as network traffic builds up.
Main Features
| | | | | | |
| --- | --- | --- | --- | --- | --- |
| Model Name | Controller | Bypass | Link Speed | Media Type | I/O Ports |
| NV 120F | XXV710-AM2 | None | 25 Gb/10 Gb | Fiber | 2 SFP28 |
Ordering Information
NV 120F (P/N: 10S50120F01X0)
Intel® Ethernet controller XXV710-AM2, 25 GbE LAN module, 2x fiber ports, PCIe x8 interface with PKG
NSA 7145 (P/N: 10S00714500X0)
2U, dual Intel® Xeon® Scalable processors, Intel® C625 chipset, with LCM, 2x swappable 2.5" HDD trays, 3x swappable system fans, 8x PCIe x8 slots, 700W PSU
NSA 5160 (P/N: 10S00516000X0)
1U, Intel® Xeon® processor D-1528, 6C/1.9GHz with 2x 10GbE, 8x 1GbE, 2x PCIe x8 slots, w/o LCM kit
NSA 3170A (P/N: 10S00317001X0)
1U, Intel® C236 chipset, 7th and 6th gen. Intel® Xeon®/Core™/Pentium® processor, 2x DDR4 memory slots, 8x GbE copper ports, SATA DOM, USB ports, VGA port, 1x PCIe x8 slot (front), w/ LCM
NSA 3170 (P/N: 10S00317000X0)
1U, Intel® H110 chipset, 7th and 6th gen. Intel® Xeon®/Core™/Pentium® processor, 2x DDR4 memory slots, 6x GbE copper ports, SATA DOM, USB ports, VGA port, w/ LCM