Designed for in-vehicle computers, NEXCOM VMD 2000 vehicle mount display series offers users increased functionality and improved visual assistance within a variety of in-vehicle applications. The VMD 2000 series features 8-inch touch screen, auto brightness adjustment, single wire connection and robust exterior. With numerous other features such as front camera, speaker, USB port and SD/MMC memory card slot, this rugged vehicle mount display is ideal for all manor of in-vehicle applications within sectors such as logistics, emergency services and public transportation.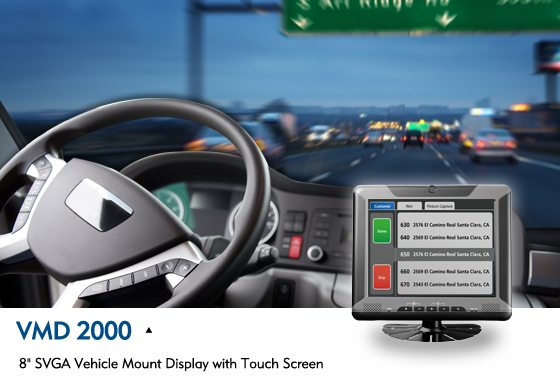 The VMD 2000 series features 8-inch touch screen LCD panel with SVGA resolution, brightness of up to 1000 nit, light sensors and anti-glare function. This series can display detailed images, automatically adjusting the screen brightness based on ambient light to give drivers a clear and comfortable view in varying lighting conditions.
More than just information display, the VMD 2000 series with USB port and card reader has several practical uses. For example, carriers can scan tracking labels with a USB scanner and save the data to the SD/MMC memory card. The USB port also comes in handy for maintenance and upgrade of in-vehicle computers. Configured with an optional front camera, the VMD 2000 series can even help physicians guide ambulance attendants through telepresence meeting or help control center monitor in vehicle activity in cash-in-transit van.
Optimized for vehicular environments, the VMD 2000 series has passed shock and vibration test based on MIL-STD-810F standard and the front panel is compliant with IP-54 rating to resist water and dust ingress. The extended power input range of 9~36V and operating temperature range of -20~60°C are also important attributes to increase the reliability and durability of the VMD 2000 series.
The VMD 2000 series consists of three models. VMD 2000 with LVDS connector simplifies cabling and works exclusively with NEXCOM in-vehicle computer VTC series. VMD 2001 and VMD 2002 with VGA connectors support a wider spectrum of vehicle terminals.
Main Features
8" SVGA TFT LCD monitor
Automatic/ manual brightness control
Wide range DV input from 9~36V
On screen control buttons
Support USB 2.0 and card reader
Front camera (Optional)
Support for 1000-nit LCD panel for strong sunlight
IP54-compliant front panel
Loud speaker
Ordering Information
VMD 2000 (P/N: 10VD0200000X0)
8" SVGA vehicle mount display with touch screen and LVDS interface
VMD 2001 (P/N: 10VD0200100X0)
8" SVGA vehicle mount display with touch screen and VGA interface
VMD 2002-B (P/N: 10VD0200202X0)
8" SVGA vehicle mount display with touch screen and USB, VGA and power cable integration