NEXCOM has expanded its fanless computer NISE lineup with NISE 2200/2300 to response to the growing popularity of Ethernet and serial protocols. The power-effective NISE 2200/2300 features Intel® Atom™ dual core D2550 processor, supports high resolution image processing and offers abundant communication interfaces, storage options and wireless connectivity. Coming in compact size, NISE 2200/2300 is ideal to be embedded in self-service kiosks, vending machines, machinery automation and industrial automation.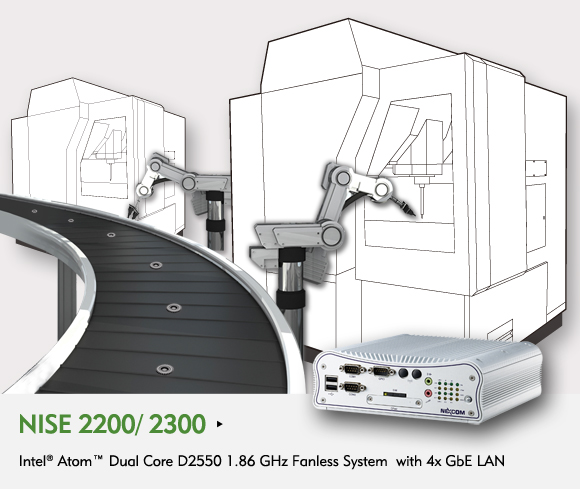 NISE 2200/2300 features Intel® Atom™ dual core D2550 processor, integrated Intel® Graphics Media Accelerator 3600 and up to 4GB system memory. NISE 2200/2300 supports dual displays and full HD 1080P video playback whilst consuming a fraction of energy. Positioned as power-efficient fanless computer, NISE 2200 is intended for interactive kiosks and NISE 2300 is the ideal PC-based controller, enabling multiport GbE communication in machine and factory automation.
The variety and diversity of I/O interfaces is a major highlight of NISE 2200/2300. The NISE 2200 is configured with 2x LAN, 6x COM and 6x USB ports while the NISE 2300 has 4x LAN, 4x COM and 6x USB ports. With regards to electromagnetic disturbances, two RS-232/422/485 ports on NISE 2200/2300 provide isolation protection. Also, one internal HDD and one external CFast are provided for storage concern.
In addition, one mini-PCIe for 3.5G/ Wi-Fi expansion enables both fanless computers to show great ability to manage an increasing number of Ethernet and serial devices, building an internal network which includes camera, sensor, and motor drive and monitoring over WWAN.
Reliability is the hallmark of NISE fanless computers. Encased in a fanless aluminum chassis, NISE 2200/2300 deters contaminants and dissipates heat effectively, ensuring smooth operation in challenging environments. With support for wide DC input voltage from 9~36V and wide operating temperature from -20~70℃ make NISE 2200/2300 more invincible.
Target Application
Kiosk
Vending machine
Machine automation
Industrial automation
Main Features
Function
NISE 2200
NISE 2300
Processor
Intel® Atom™ Dual Core D2550 processor, 1.86 GHz
Chipset
Intel® 82801JIR ICH10 RAID
Display Output

1x DVI-I

1x HDMI

1x DVI-I

1x DVI-D

LAN

2x GbE LAN

4x GbE LAN

COM

2x RS-232/422/485 w/ isolated protection

2x RS-232/422/485

2x RS-232

2x RS-232/422/485 w/ isolated protection

2x RS-232/422/485

USB

6x USB 2.0

Expansion

1x internal mini-PCIe socket

Storage

1x external CFast socket, 1x 2.5" HDD driver bay

Power

9-36VDC

Operating Temperature

-20°C to 70°C
Ordering Information
NISE 2200 (P/N: 10J00220000X0)
Intel® Atom™ Dual Core D2550 fanless system, 2x GbE ports, 6x COM ports, 6x USB 2.0, 1x DVI-I,
1x HDMI
NISE 2300 (P/N: 10J00230000X0)
Intel® Atom™ Dual Core D2550 fanless system, 4x GbE ports, 4x COM ports, 6x USB 2.0, 1x DVI-I, 1x DVI-D