NEXCOM's robust railway computers, VTC 7220-R series, are compact yet powerful in enhancing passenger safety and amusement. The Intel® Core™ i7-4650U processor, maximum 4TB storage support, plus EN 50155 certification allow the computers reliably to stream and store 24/7 surveillance footage or on-demand entertainment in HD. Rich I/O interfaces simplify onboard system integrations with video analytics so that transportation authorities can identify suspicious incidents or malfunctioning systems in time, keeping operations safe and sound.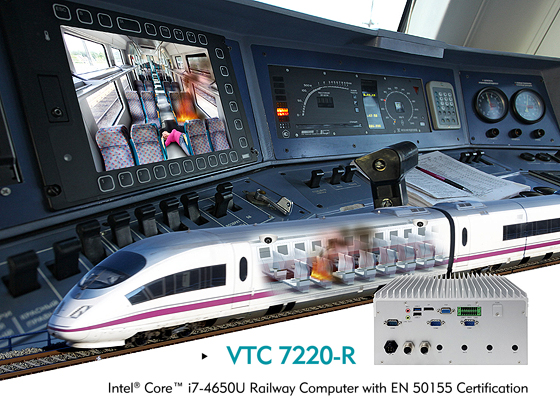 The railway computers provide superb performance for not only running video analytics, but also supporting surveillance and instant playbacks in full HD. Crystal clear surveillance footage and video analytics combined deliver wide coverage in great detail and accuracy of detecting suspicious activities, thus improving overall security. In addition to safeguard passenger safety, the VTC 7220-R series can be used to stream in-seat entertainment systems, thus enhancing passenger delight. Instead of one, the series supports two 2.5-inch hard disks with up to 4TB capacities in total. This large capacity helps store HD multimedia files or full HD surveillance recording for 7 days from up to 4 cameras at 30fps. Better still, the hot swap design enables fast replacement while the vibration-resistant mechanism delivers alternatives to SSD.
Equipped with lockable connectors, the railway computers ensure uninterrupted power supply and I/O connectivity from vibrations. Rich I/O interfaces including GPIO, CAN Bus, LAN, and USB simplify integrations between surveillance and onboard systems including door systems, cockpit access control readers, passenger information displays, fire alarms, and emergency intercoms. Through the integration, video information is aligned with system abnormalities or an event that initiated the alarm. This video verification shortens authorities' time to take immediate action in case there is a passenger dispute, vandalism, lost item or system malfunction.
The EN 50155-certified railway computers ensure the integrity of vital video data, event records, or entertaining multimedia from interferences from electromagnetic interference, shock, and EN 50155 Tx temperature range. Built to cover numerous operations from light rail to freight trains, the VTC 7220-R series supports 24, 36, and 110VDC power inputs and is available with 48VDC upon request. Unlike conventional bulky rack-mount rail computers, the VTC 7220-R series is compact in size, making it easily fit in cabins.
Main Features
Powerful Intel® Core™ processor i7-4650U
Dual externally accessible SATA 3.0 SSD/HDD
Built-in CAN 2.0B. Optional CAN/OBDII module
EN 50155 compliant
Rich expansion capability for 4 x mini-PCIe socket
Voice communication via WWAN module
Ordering Information
VTC 7220-RA (P/N: 10V00722001X0)
24VDC input, Intel® Core™ processor i7-4650U, 1.7GHz, dual core CPU, industrial grade 2GB DDR3L SO-DIMM, VGA/DP output, 2 LAN, 2 x RS-232, 1 x RS-232/422/485, 4 x GPIO, 3 x USB
VTC 7220-RB (P/N: 10V00722002X0)
36VDC input, Intel® Core™ processor i7-4650U, 1.7GHz, dual core CPU, industrial grade 2GB DDR3L SO-DIMM, VGA/DP output, 2 LAN, 2 x RS-232, 1 x RS-232/422/485, 4 x GPIO, 3 x USB
VTC 7220-RC (P/N: TBD)
48VDC input, Intel® Core™ processor i7-4650U, 1.7GHz, dual core CPU, industrial grade 2GB DDR3L SO-DIMM, VGA/DP output, 2 LAN, 2 x RS-232, 1 x RS-232/422/485, 4 x GPIO, 3 x USB
VTC 7220-RF (P/N: 10V00722003X0)
110VDC input, Intel® Core™ processor i7-4650U, 1.7GHz, dual core CPU, industrial grade 2GB DDR3L SO-DIMM, VGA/DP output, 2 LAN, 2 x RS-232, 1 x RS-232/422/485, 4 x GPIO, 3 x USB