NEXCOM PoE-integrated NViS 3542/3542P4/3542P8 consolidates mobile NVR with surveillance capability, vehicular functionality and system reliability. The NViS 3542 series supports real-time playback and recording; it enables 16 channels of high resolution surveillance videos to be instantly transmitted from IP cameras to surveillance platforms and remote sites. Based on the Intel® Core™ i7/i5 processor, the PoE-integrated NViS 3542 series supports high bandwidth GbE LAN, PoE interface, GPS communication, WAN/WLAN connectivity, and hot swappable HDD. This ruggedized mobile NVR series guarantees highly reliable performance in challenging mobile environments and is suitable for use in police patrol cars, fire engines, ambulances, public transportation and more.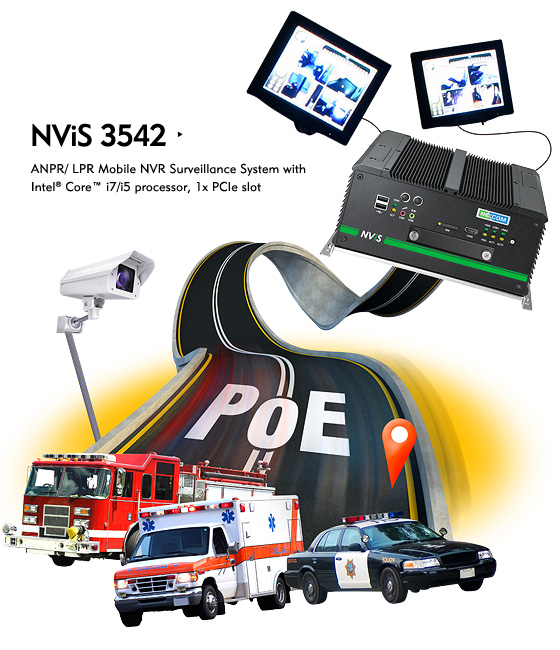 Excellent PoE-Integrated Surveillance
The NViS 3542 series integrates PoE interface. Simultaneously, up to sixteen channels of videos from high megapixel IP cameras can be circulated throughout PoE interface and GbE LAN and displayed on two independent displays. The NViS 3542 series is driven by the Intel® Core™ i7/i5 processor which is paired with mobile Intel® QM57 chipset and integrated with graphics engine, Intel® Turbo Boost and Hyper-Threading technologies. This series has excellent graphics capability to process HD contents playback and recording in real time.
Extra Vehicular Functionality
With a view to assisting personnel from a distance, 3G/3.5G/Wi-Fi network along with GPS communication are supported by NViS 3542 series, which allows personnel to remotely access video footage and location information and to rapidly make necessary response. Apart from positioning, tracking and navigation will be another ideal use of these features. Moreover, ANPR/LPR video capture function can also be added to these mobile NVRs via PCIe x1 interface.
Enhanced System Reliability
The NViS 3542 series has two 2.5" HDD bays with one supporting hot swappable drive to avoid interruption to ongoing operation. Other attributes include ruggedized design, certified MIL-STD-810F-514.5 C3 resistance, power ignition and 9~30V DC input. These features enhance system reliability against temperature variation, vibration, voltage spikes and battery drain. Even in the mobile environments, stable power input can be assured owing to the PoE interface, which also curbs wiring complexity in this regard. With the great adaptability to the hostile mobile environmental, the NViS 3542 series offers great substantial benefits to surveillance applications on wheels.
Target Application
Patrol car
Fire engine
Ambulance
Public transportation
ANPR/LPR
Main Features
Up to 8x PoE ports
Dual VGsA or VGA/DVI independent displays
Vibration: MIL-STD-810F 514.5 C3-Composite wheeled vehicle (SSD with vibration kit)
Support Intel® Core™ i7/i5 processor
Mobile Intel® QM57 PCH
Dual Intel® Gigabyte Ethernet ports
3x R232 and 1x R232/422/485 with auto flow control
On-board DC to DC power design to support 9V to 30V DC power input
Support ATX power mode and PXE/WoL
Support 3G/3.5G/Wi-Fi/ GPS communications
1x PCIe x1 slot for ANPR/LPR video capture
Ordering Information
NViS 3542 (P/N: 10C00354202X0) RoHS Compliant
ANPR/LPR Mobile NVR Surveillance System with Intel® Core™ i7/i5 processor, 1x PCIe slot
NViS 3542P4 (P/N: 10C00354201X0) RoHS Compliant
In-vehicle Mobile NVR surveillance system with Intel® Core™ i7/i5 and 4 PoE ports
NViS 3542P8 (P/N: 10C00354200X0) RoHS Compliant
In-vehicle Mobile NVR surveillance system with Intel® Core™ i7/i5 and 8 PoE ports