NEXCOM, a leading supplier of network appliances, launched a new platform based on the 4th Gen Intel® Xeon® Scalable processor – the NSA 7160. This high-performance 2U rackmount is a long-awaited enhancement of NEXCOM's well-established cyber security product line. NSA 7160 is equipped with the latest Intel® technologies, featuring eight PCIe Gen5 extension slots for LAN modules, built-in accelerators, CXL1.1 and supports installation of RunBMC module & full-height full-length (FHFL) card.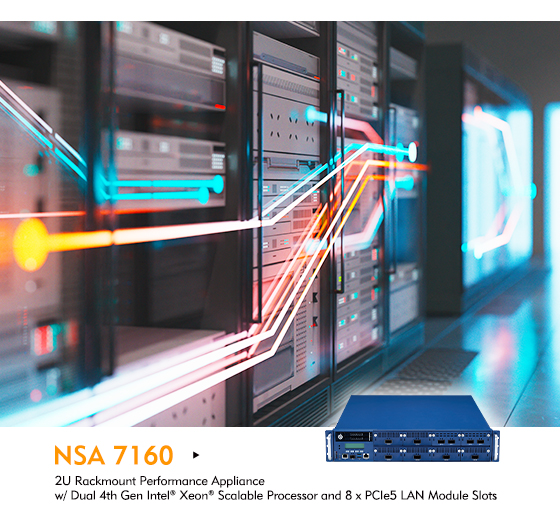 NEXCOM's NSA 7160 is intended for network security and 5G network applications, with cutting-edge features like multi-core computing performance, high memory capacity, high-speed I/O interface, and improved Intel® QuickAssist Technology (Intel® QAT) hardware acceleration for both enterprise and telecommunication applications. By leveraging 4th Gen Intel® Xeon® Scalable processors, NSA 7160 accelerates performance across the fastest-growing workloads and delivers value across multiple applications.
To broaden customers' capabilities in terms of big data processing, NSA 7160 is designed with the latest PCIe Gen5 interface that enables up to 2.6Tb Ethernet connectivity per system. One other highlight is Compute Express Links (CXL) 1.1, which accelerates CPU-to-device or CPU-to-memories connections, a much-desired feature for high-speed data processing of all kinds.
"NEXCOM is proud to be part of this significant event with Intel," said Allan Chiu, VP of Network & Communication Solutions at NEXCOM. "We are launching our new flagship product that offers our customers the highest Ethernet connectivity per system ever available on the market. The productive cooperation and leveraging of 4th Gen Intel® Xeon® Scalable processors, let NEXCOM stay among industry leaders and bring unprecedented performance to the network industry once again."
"Our 4th Gen Intel® Xeon® Scalable processors bring cutting-edge technologies, under multi-workload-oriented architecture and cloud-native design concept, with built-in acceleration and advanced security, all the crucial elements required by today's newly evolved network infrastructure," said Keate Despain, Intel® Network Builders Director, Intel® Corporation. "NEXCOM is an awarded Winners' Circle Gold partner, and we are excited to see the integration of Intel's innovations into their solutions to deliver more choice to their customers for the 5G era."
© Intel Corporation. Intel, the Intel logo, and other Intel marks are trademarks of Intel Corporation or its subsidiaries.
Main Features
Dual 4th Gen Intel® Xeon® scalable processor
16 x DDR5 4800 ECC RDIMM
2 x 2.5" swappable SSD/HDD
2 x Management ports
1300W 1+1 CRPS redundant power supply
8 x PCIe5 LAN module slots
1 x PCIe4 x16 slot with CXL1.1 for FHFL card
Supports 1 x IPMI 2.0 RunBMC (optional)
Ordering Information
NSA 7160 (P/N: 10S00716000X0)
2U w/ dual 4th Gen Intel® Xeon® Scalable processor w/ QAT, LCM, 8 x LAN module slots