To cope with the boom of e-commerce and direct delivery trends, machine learning (ML) is currently greatly integrated into ADAS, public works, intelligent traffic system (ITS), and countless warehouse applications. Provided with advanced computing power, extension capability, and high connectivity, NEXCOM's in-vehicle AI-aided telematics computer, VTC 7260-xC4 is used as the core of vehicles to help deploy applications like smart public transit, smart agriculture/construction, and automated intralogistics.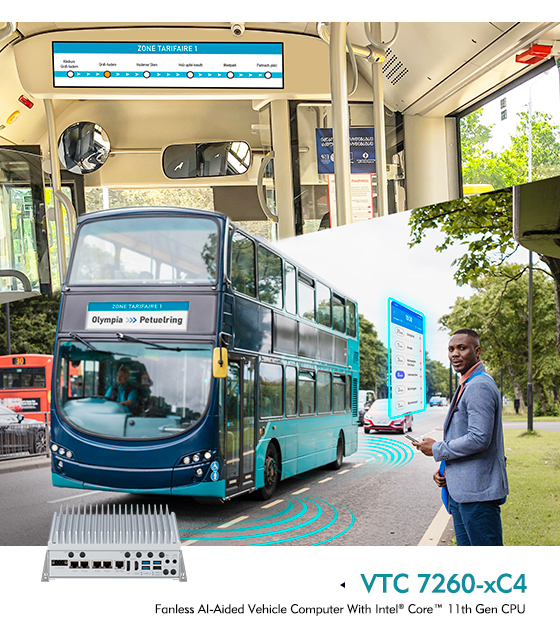 Convenient and Powerful
VTC 7260-xC4 features the 11th Generation Intel® Core™ i7-1185GRE Processor, offering 25% more computing power than its predecessor. For high-performance image recognition and AI workload demands, up to two Hailo AI Accelerator cards can be installed, for approximately 52 TOPS. This facilitates ADAS in identifying, recognizing, and predicting vehicles' internal or external abnormalities via video surveillance, LiDar, and mmWave radars. Although compact and lightweight, it can install various and numerous surrounding sensors, perfect for smart public transit and warehouse automation.
Flexible Compatibility
Provided with four independent 2.5 GbE PoE ports and four USB 3.2/2.0 ports, AMRs and forklifts can connect with a combination of IP/stereo camera, mmWave radar, and 2D/3D Lidar to build and route through SLAM algorithm; autonomously completing its tasks. Whereas, buses and ambulances utilize AVL via GNSS, 5G, and Wi-Fi to provide smart public transit and ITS to compute the fastest route under emergency circumstances respectively. With built-in excellent computing power collaborated with Hailo AI accelerator and a performance decoder of 40x1080p30, this in-vehicle AI computer fulfills the workloads of AI models while operating massive data such as video images and point cloud data.
Wireless Connectivity
Five extension slots are provided for the flexibility to connect with up to three Wi-Fi, LTE, or 5G modules to assist with the busy server communication, depending on the environment. For operational safety and efficiency management, all recorded footage of AMRs and forklifts including, machine-to-machine real-time communication will be stored in the NVMe storage for quick response. These data then await to be exported and shared via Wi-Fi, 5G or real-time whenever necessary for the backhaul. While, for buses, ambulances, and farm tractors, their data are uploaded upon returning to their workstations. All applications are updated via Wi-Fi 6, providing a clutter-free wireless environment. As for reliability, this telematics computer provides heat dissipation solutions for LTE, Wi-Fi, NVMe, and Hailo AI cards, tackling even the harshest environments.
The compact in-vehicle AI-aided telematics computer, VTC 7260-xC4 is compliant with MIL-STD-810H, has a wide operating temperature range, and is secured by TPM2.0. Provided with rich I/Os, expansion slots, and LTE/5G, it decreases human labor and cost while increasing productivity, security, and safety; ultimately assisting vehicles to steer toward the world of automation.
Main Features
11th Generation Intel® Core™ i7-1185GRE, cost-efficient performance
Compact, rugged and fanless design
Rich I/Os, 4 x PoE+, GbE, 4 x USB 3.2/2.0 & 2 x RS232/422/485
1 x 2.5" SSD, 1 x mSATA and 1 x NVMe SSD for data integrity
Up to 3 combinations of LTE/5G, Wi-Fi 5/6 for wireless connections
Triple display, VGA, HDMI and DP for multi video-out
9~36V wide-range DC-IN with ignition control & OCP/OVP
Wide range operating temperature of -30°C~60°C (w/ 60W PoE supported)
Military standard of anti-vibration/shock for harsh environments
Operating System: Windows 10/11, Ubuntu 18.04
CE/FCC, UKCA, E-mark Certified
Ordering Information
VTC 7260-5C4 (P/N: 10V00726001X0)
Intel® Core™ i5, 4 x PoE + 1 x GbE, 1 x USB 2.0, 3 x USB 3.2, 2 x RS232/422/485, 1 x 2.5" SSD, 1 x mSATA, 9~36VDC/IGN
VTC 7260-7C4 (P/N: 10V00726000X0)
Intel® Core™ i7, 4 x PoE + 1 x GbE, 1 x USB 2.0, 3 x USB 3.2, 2 x RS232/422/485, 1 x 2.5" SSD, 1 x mSATA, 9~36VDC/IGN