NEXCOM, a leading supplier of network appliances, offers a validated solution for 5G fronthaul deployments. FTA 5180 is a 1U rackmount in a short form factor, powered by Intel® Xeon® D-1700 processor. It features ten high-bandwidth Ethernet ports, PoE++ functionality, optional support of Wi-Fi 6 and 5G, and can be deployed across diverse use cases, including 5G O-RAN DU and CU. FTA 5180 has undergone 5G fronthaul enablement with the following tests, which revealed outstanding results. The reading significantly surpassed threshold limits, proving that FTA 5180 is able to bring high throughput and improved network efficiency to existing network infrastructure.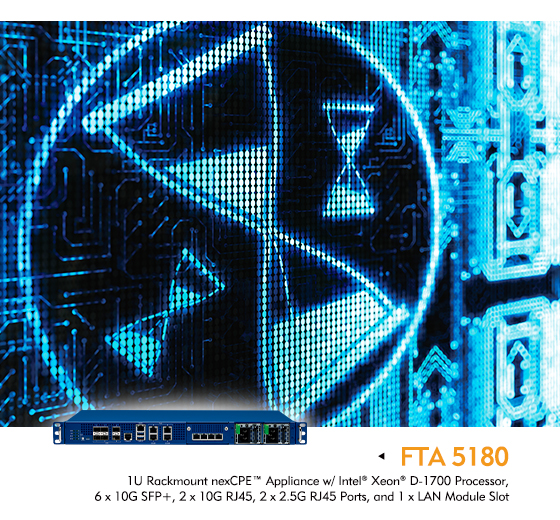 Fronthaul is an important part of 5G O-RAN network infrastructure. O-RAN maintains network timing distribution as the preferred approach within the fronthaul network. To increase network efficiency and fulfill challenging 5G use cases, synchronization in the RAN is essential. The loose sync can cause a serious negative impact on network KPIs e.g. low throughput, poor attach success rate, and poor handover success rate.
FTA 5180 proved its readiness to be deployed as DU and CU at 5G fronthaul by passing PTP clock offset and wire bandwidth performance tests. The 5G downlink performance of FTA 5180 reached 1.51Gb/s which is higher than the threshold value. The IEEE 1588 PTP clock offset requirements to pass the test were less than 100ns between the PTP Hardware Clock server and FTA 5180. The result reveals that the measurement average of FTA 5180 is significantly better - 29.3ns. Meaning the PTP performance of FTA 5180 is very precise and the system clock is synchronized. To learn more, please refer to the white paper.
FTA 5180 is among the appliances NEXCOM will display during MWC 2023 in Barcelona. Come and check it out in Hall 5, 5A61.
Main Features
Intel® Xeon® D-1734NT processor
4 x RDIMM/UDIMM socket, support ECC/non ECC, up to 256GB
2 x M.2 2242 Key M with SATA signal
6 x 10G SFP+ ports
2 x 10GBaseT RJ45 PoE++ port
2 x 2.5G RJ45 PoE++ ports
1 x LAN module slot
Supports IPMI2.0
Supports Intel® QAT
TPM2.0 onboard
Ordering Information
FTA 5180 (P/N: 10FT0518000X0)
1U rackmount nexCPE™ appliance w/ Intel® Xeon® D-1734NT processor, 6 x 10G SFP+, 2 x 10G RJ45, 2 x 2.5G RJ45 ports, and 1 x LAN module slot