Kiosk and interactive digital signage players enable organizations to provide better service and shorten waiting times, especially in customer-service oriented industries. NEXCOM MPPC 2120T/ 3220T are 21.5" and 32" fanless multimedia Panel PCs which both feature a ultra slim mechanism and panel mount design which minimizes space and enables installation almost any location, including retail outlets, supermarkets, train station and airports. The touch screen enhances user interaction to offer improved customer service. In addition, the user experience is further enhanced by the MPPC 2120T/ 3220T ability to stream dynamic multimedia content.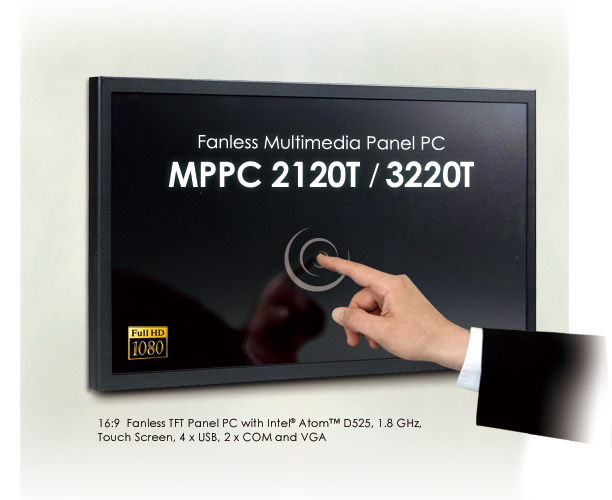 Modern Slim Mechanical Design
The MPPC 2120T/ 3220T are 21.5" and 32" fanless multimedia Panel PCs which incorporate a 16:9 SAW and resistance touched LCD panel with resolutions up to 1920x1080 pixels (Full HD). With x86 based terminal and slim bezel design, both MPPC 2120T/ 3220T have 64.7mm and 84.6mm depth and features narrow borders around active touch-sensitive area. Such compact and slim designs minimize space for all applications and can be easily mounted in any location.
Additional Panel-Mount and Interactive Touch Screen
Whilst many products in the market only adhere to the VESA mounting standards, NEXCOM MPPC 2120T/ 3220T can also be mounted on a wall and panel, providing users with another mounting option, especially for space critical applications. Moreover, equipped with touch screen Panel PC, it enhances and streamlines the interactions with users, such as check-in Kiosk in train stations, airports and entertainment venues.
Rich Multimedia Content Handling
MPPC 2120T/ 3220T are powered by a high performance Intel® Atom™ D525 processor with Intel® ICH8M chipset and support for DDR3 memory, which enable simultaneous running of rich multi-media content. Equipped with an abundance of I/O interfaces that meet the requirements of current multimedia application market, both platforms provide expansion flexibility for controlling subsystems. In addition, an easy access storage drive bay is specifically designed for quick installation without any trouble.
Main Features
Multi-media: 16:9 1920x1080 Full-HD LCD panel (21.5"/32") with SAW/ resistance touch
Thin Metal Frame and two pieces design, Panel and rear box pc
32" View angle: 89/89/89/89 ; 21.5" View angle: 80/80/85/85, good for portrait/ landscape position
Intel® Atom™ D525 (1.8GHz, 1M Cache) Dual Core, DDR3 support
Dual GbE/ Line-in/ Line-out/ MIC-in/ PS2 KB/MS/ 1 x 2.5" HDD bracket
USB x 4/ 2 x mini-PCIe sockets/ 1 x CF/ 2 x RS232/ 422/ 485
Panel Mount/ VESA Mount Compliance