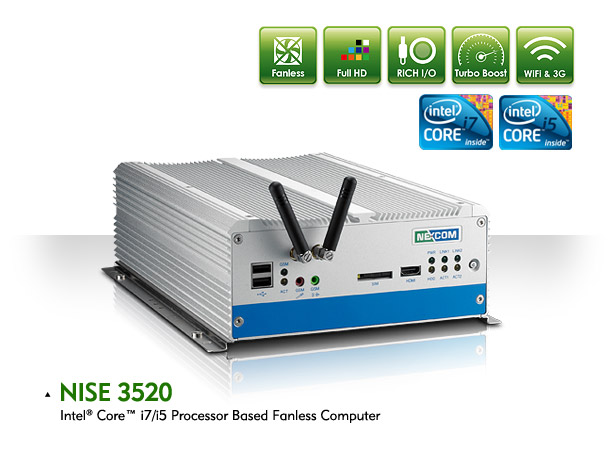 NEXCOM NISE 3520 fanless computer is powered by Intel's two-chip QM57 mobile platform which supports 32nm Intel® Core™ i7-620M and i5-520M processors. Utilizing the 32nm multi-core mobile processors and hyper-threading technology, the NISE3520 supports multi-tasks with faster speed, excellence graphics performance and superior bandwidth both in memory and I/O connectivity.
Targeting mobile fanless appliances, NISE 3520 is ready for wireless communication with wireless module or 3G module installations. Designed with user friendly concept, the SIM card holder is available on the front panel for easy access. An optional GPS kit is also available on the selection list. NISE 3520 is ideal for mobile applications which require wireless connection, high computing performance and extreme reliability. Typical applications include public infotainment, digital signage, Kiosk, SCADA, medical, security surveillance and industrial automation.
Optimum Computing and Graphic Performance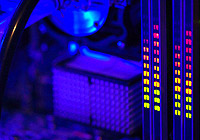 Utilizing Intel® Turbo Boost Technology, NISE 3520 fanless computer can improve the multi-core processor performance and optimize graphic intensive loads by utilizing the intelligent power sharing function. This function allows processor cores to run faster than the base operating frequency when the other core is less utilized, it can therefore increase system performance.
In addition, the computing performances of both multi-threaded and single threaded workloads are improved by Intel® Hyper-Threading Technology. Compared with previous NISE 3140 (GM45, T9400 2.53G), NISE 3520 (i5-520M, 2.4G) gains 1.3 times processor performance and 1.6 times on 3D performance. The NISE 3520 is therefore an ideal fanless system for graphic and computing driven applications.
Multiple Display Output Options
1080P HD video playback is frequently required within medical computing applications. To meet this goal, the NISE 3520 is equipped with an integrated graphics engine that is capable of fulfilling requirements of medical diagnostic and medical imaging. In addition, the NISE 3520 provides more independent display output options including – dual VGA, VGA with DVI, DVI with HDMI or HDMI with VGA. This benefit reduces the total system cost in digital signage applications.
Ready to Go for Wireless Communication
As a wireless-ready fanless platform, the NISE 3520 comes with mini-PCIe socket, antennas and SIM card holder on the front panel for wireless connectivity. With optional GPS module kit, NISE 3520 can also work as mobile navigation device. In addition, the NISE 3520 has rich I/O connectivity, including two Intel® GbE LAN ports, 6x USB ports, 4x GPI, 4x GPO, 4x COM ports, 1x HDMI, 1x VGA, 1x DVI-I and wide range of DC inputs from 9-30V.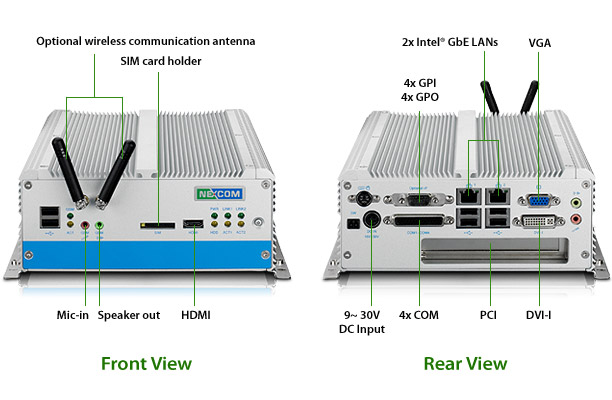 Target Application
Public infotainment or Kiosk
Digital signage
Data acquisition or SCADA
Security surveillance
Industrial automation
Main Features
Support Intel® Core™ i7/i5 socket processor
Mobile Intel® QM57 PCH
Dual Intel® Gigabit Ethernet ports
Dual independent display via 2x VGA, VGA/DVI or DVI/HDMI
3 x RS232 and 1 x RS232/422/485 with Auto Flow Control
1 x mini-PCIe socket with mobile communication interface and one external SIM card holder
On-board DC to DC power design to support 9V to 30V DC power input
Support ATX power mode and PXE / WoL
Ordering Information
NISE 3520 (P/N: 10J00352000X0) RoHS Compliant
Intel® Core™ i7/i5 Fanless System with Mobile Wireless Communication Support and One PCI Expansion