NViS 2280 turns megapixel surveillance in mobile NVR into reality with fast gigabit transfer speeds. NEXCOM NViS 2280 provides four high bandwidth Gigabit PoE, two additional GbE LAN interfaces, dual local display, a multitude of wireless technologies, hot swappable HDDs and G sensors. Along with low power consumption and support for a wide range of power inputs, the rugged NViS 2280 based on Intel® Atom™ processor D2700 has been specifically designed for security surveillance applications in hostile mobile environments.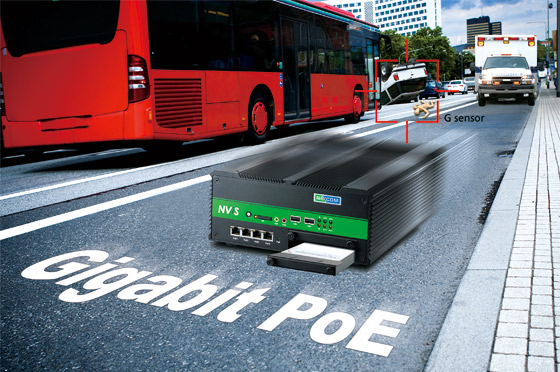 Enjoy High Gigabit Transfer Rates
For the first time, the PoE interface with gigabit transfer is brought to the mobile NVR for video transmission. With GbE PoE and GbE LAN interfaces, NViS 2280 keeps pace of megapixel advances in IP cameras; it allows sixteen channels of high definition video to be transmitted across broader bandwidth. Moreover, PoE-integrated NViS 2280 helps remove PoE switches from the vehicle and has independent power supply to switch on/off and reset IP cameras remotely. NViS 2280 based on Intel® Atom™ processor D2700 not only runs faster with a fraction of power consumption but also simultaneously supports HD video output via VGA and HDMI ports.
Mobility with Rugged Design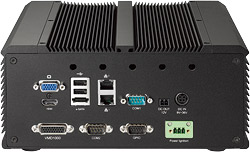 Wireless connectivity is the pillar of vehicle telematics. The mobile NVR offers 3G/3.5G/Wi-Fi, GPS, and Bluetooth, building an environment that is supportive to intricate networks with different range of coverage. The two hot swappable HDD bays provide up to 1.5T storage capacity. Additional SATA DOM can be configured as system disk in NViS 2280 to optimize HDD allocation. eSATA is also available for storage expansion. In accordance with MIL-STD-810F 514.5 C3 standards, NViS 2280 is resistant to high levels of vibration. Additionally, NViS 2280 features an event recording mode when the built-in G sensor detects unusual vehicle movements. The platform has a wide range of power input options from 9V to 36V and optional power ignition is offered to address power issue in vehicle.
Start Rolling Now
To help clients get immediate grasp of the NViS's capabilities, NEXCOM is rolling out NViS Evaluation Kit program. Under this program, NViS 2280 is pre-installed with 4G SATA DOM, 2G memory, Windows Embedded Standard 7, VMS solution from Genius Vision Digital Inc, along with one 2 megapixel IP camera, one RJ 45 cable and power adapter. No matter what your product is, you can play with NViS 2280 security surveillance platform on completion of three-step installation.
Target Application
Patrol car
Fire engine
Ambulance
Public transportation
Main Features
4-port Gigabit PoE (IEEE802.3af-16.8W per port)
Dual local display by (VGA+ HDMI)
Vibration: MIL-STD-810F 514.5 C3-Composite wheeled vehicle (SSD with vibration kit)
2x 2.5" hot swappable HDD tray
Intel® Atom™ Dual Core 2.13GHz processor D2700
Wireless communication (3.5G/ WLAN/ BT/ GPS)
2x Intel® 82583V Gigabit Ethernet
Support 1x isolated RS-232 port
Optional power ignition
9~36V wide range power input
Ordering Information
NViS 2280 (P/N: 10C0228000X0) RoHS Compliant
PoE Ready, Mobile NVR with Intel® Atom™ processor D2700
NViS 2280 Evaluation Kit – NTSC (P/N:TBD) RoHS Compliant
PoE Ready, Mobile NVR with Intel® Atom™ processor D2700, w/ WES7, VMS bundled and 2MP NTSC IP-Camera
NViS 2280 Evaluation Kit – PAL (P/N:TBD) RoHS Compliant
PoE Ready, Mobile NVR with Intel® Atom™ processor D2700, w/ WES7, VMS bundled and 2MP NTSC IP-Camera