Broadening its IoT gateway portfolio, NEXCOM's latest NIO 100 series provides seamless interconnection and secured data transmission from edge devices to the cloud. NIO 100 series has built connectivity, manageability, and security into a cloud-ready IoT gateway solution. Combining the support for diverse communication and extended operating temperature, NIO 100 series offers flexible use in manufacturing, industrial, environmental monitoring, and home and building automation applications.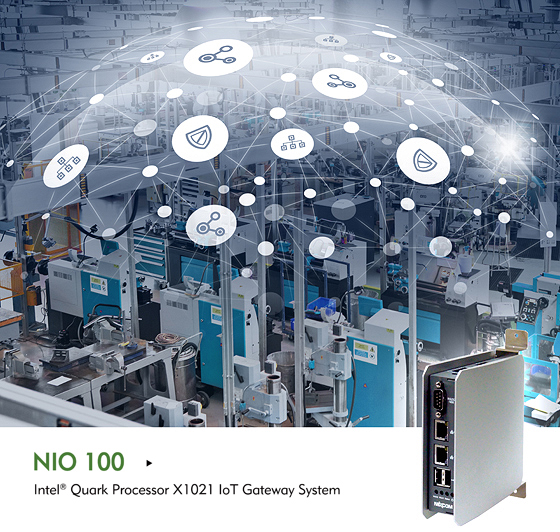 NIO 100 series has integrated Intel® Quark™ SoC X1021, Wind River® Intelligent Device Platform, and McAfee Embedded Control. To connect the edge to the cloud, NIO 100 series supports multiple communication protocols with fieldbus IoT gateway NIO 101—with broad support for PROFIBUS, PROFINET, DeviceNet, EtherNet/IP, EtherCAT, and Modbus TCP/RTU—and Modbus TCP/RTU IoT gateway NIO 100. NIO 100 series can also build up ZigBee, Z-Wave, and EnOcean connectivity with custom configuration. The multi-protocol support allows NIO 100 to collect data from manufacturing machines and wireless sensor networks (WSN). Moreover, NIO 100 series can transfer data over both wired and 3G/Wi-Fi wireless networks, offering the last mile connection and ensuring reliable data transmission with data buffering.
To increase manageability, NEXCOM's IoT Studio and Connect-to-Cloud cloud server (C2C cloud server) offer hassle-free configuration and management from initial setups to system fine-tuning afterwards. NEXCOM IoT Studio is a GUI utility tool which simplifies network configuration with click-to-connect settings, updates gateways via wireless automatic over the air (OTA) updates, and enables rapid and consistent maintenance with group management. The upcoming C2C cloud server—featuring devices, data, access, and event management functions—allows manufacturers, plant operators, and facility managers to remotely monitor and control everyday operations to make more efficient and productive use of assets.
To protect system and data integrity, NIO 100 IoT gateway solution provides both hardware- and software-level security with Intel processor, Wind River® Intelligent Device Platform, and McAfee Embedded Control. For instance, NIO 100 uses secure boot to provide a verified environment for software and applications to load; it prevents data tampering or malware attacks during transmission with VPN and firewall; and it blocks unauthorized change attempts with a whitelisting approach.
NEXCOM cloud-ready IoT gateway solutions NIO 100Y and NIO 101Y are also available with the open source Yocto operating system. Software developers and system integrators can integrate any third-party software that best suits application needs.
Main Features
Onboard single-core Intel® Quark™ SoC X1021
Wind River® Intelligent Device Platform based on Wind River® Linux and McAfee Embedded Control (NIO 100/101)
Yocto-based BSP (NIO 100Y/101Y)
Support Modbus TCP/RTU
1x mini-PCIe on NIO 100/100Y for optional 3G/Wi-Fi module
2x mini-PCIe on NIO 101/101Y for FBI and optional 3G/Wi-Fi modules
2x 10/100 Ethernet ports, 2x USB, 1x RS232/422/485
Built-in secure boot function
Wide power input range of 9~36V DC
Extended operating temperature from -20 to 70 degree Celsius
Ordering Information
NIO100 (P/N: TBD)
Modbus TCP/RTU IoT gateway with Wind River® Intelligent Device Platform based on Wind River® Linux and McAfee Embedded Control
NIO101 (P/N: TBD)
Fieldbus IoT gateway with Wind River® Intelligent Device Platform based on Wind River® Linux, McAfee Embedded Control, and fieldbus FBI module
NIO100Y (P/N: TBD)
Modbus TCP/RTU IoT gateway with Yocto-based BSP
NIO101Y (P/N: TBD)
Fieldbus IoT gateway with Yocto-based BSP and fieldbus FBI module