NEXCOM's COM Express type 10 mini module ICES 501X brings the balance of size and ruggedness to mission-critical, embedded, and industrial applications. Powered by Intel® Atom™ processor E3800 product family, ICES 501X delivers up to quad-core processing power with less than 10W TDP. The power efficiency saves additional space for cooling. Also, with onboard DDR3L and eMMC memory support, palm-sized (84mm by 55mm) ICES 501X makes a slim fit for handheld HMIs, space-limited transportation, and commercial drones.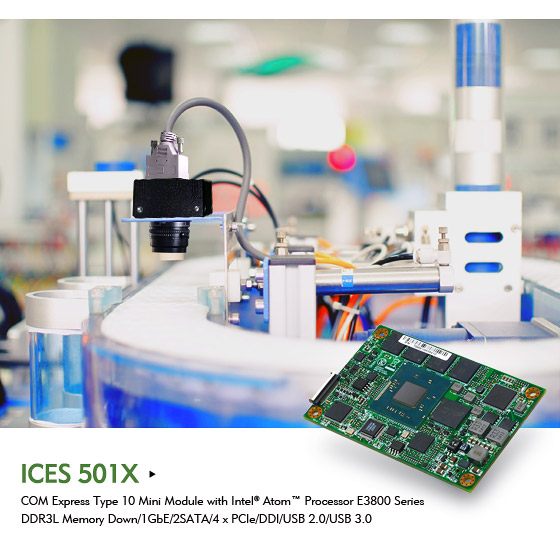 Besides its small size, the type 10 COM Express ICES 501X provides high levels of durability with wide temperature endurance and vibration-proof design. ICES 501X can operate at an extreme temperature from -40 to 85 degree Celsius, suitable for heavy duty applications such as industrial, military, maritime, and offshore oil and gas. In addition, the onboard memory mechanism of ICES 501X makes it less prone to vibration, thus ensuring data integrity and availability for mission-critical military and aerospace applications.
Optional Conformal Coating Available for Mission-critical Applications
ICES 501X is available with optional J-STD-001E conformal coating to fulfill harsh military and heavy-duty industrial demands. To meet demands for superior quality from various vertical markets, NEXCOM can incorporate conformal coating services. NEXCOM's coating solution includes smart masking, de-flux cleaning, and de-coating. These assure the consistent quality and cleanness of ICES 501X batch after batch while allowing end users to be cost efficient and to generate a higher ROI.
Main Features
Support quad-core Intel® Atom™ processor E3845 or dual-ore Intel® Atom™ processor E3826
Built-in embedded controller with EAPI support
Support up to 4GB of DDR3L memory down with1066/1333MHz
Support up to 8GB onboard eMMC
Support 4 x PCIe x1, 1 USB3.0, 7 x USB2.0, 2 x SATA2.0, and GbE
1X DP/LVDS interface
Dimension 84x 55mm (W x L)
Ordering Information
ICES 501X-3845 (P/N:TBD)
COM Express type 10 Compact Module Extended -40°C to + 85°C with Intel® Atom™ processor E3845/4C, 1.91GHz /DDR3L memory down with 4GByte SIZE/Onboard 8GBytes eMMC with PCIe/HDMI/LVDS/SATA/GbE
ICES 501X-3826 (P/M:TBD)
COM Express type 10 Compact Module Extended -40°C to + 85°C with Intel® Atom™ processor E3826/2C, 1.46GHz /DDR3L Memory down with 2GBytes/Onboard 4GBytes eMMC with PCIe/HDMI/LVDS/SATA/GbE