NEXCOM has developed the in-vehicle terminal IVT 1100 to infuse intelligence and fun into passenger vehicles, aimed at making driving safer and more enjoyable. Based on Intel® Atom™ processor E3825, the IVT 1100 integrates intelligence, advanced sensing, and connectivity onto a double DIN form factor. The in-vehicle terminal can easily turn passenger vehicles into connected cars, enabling smart mobility and bringing out the value of Internet of Things (IoT).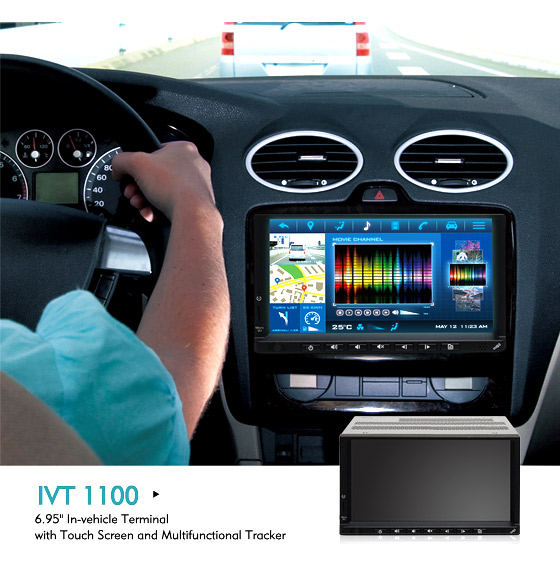 The IVT 1100 is a powerful in-vehicle terminal featuring dual-core computing, image processing, and video transcoding capabilities. With a 6.95" touchscreen, the IVT 1100 can serve as an information hub, offering visual assistance to improve situational awareness, suggesting detours based on current traffic or weather conditions to reduce travel time, or providing advanced driver assistance to increase driving safety and efficiency. Also, the IVT 1100 can consolidate in-vehicle infotainment functions such as navigation, vehicle recording with real-time playback, and audio/video systems while making possible future feature expansion.
To realize connected car visions around the IoT, the IVT 1100 has equipped with a GPS, wireless network and in-vehicle network connectivity as well as a selection of I/O interfaces. In practical application scenarios, the IVT 1100 can coordinate location information for point of interest (POI) searches, 3.5/LTE/W-Fi connections for on-demand or Wi-Fi services, Bluetooth paring for mobile device integration, CAN bus- or COM-based in-vehicle sensors for vehicle status monitoring, and even optional onboard diagnostics (OBD II) for remote, in-depth vehicle inspection.
To keep passenger vehicles smart and connected at all times, the in-vehicle terminal delivers several enhancements to ensure system reliability. In power design, the IVT 1100 follows strict standards including SAE J1113, ISO7637-2, and SAE J1455 regulations and supports a wide DC input range of 9V to 36V. Furthermore, the fanless IVT 1100 is resistant to dust, vibration, and shock to respond to environmental challenges in vehicle applications.
Main Features
High-definition 6.95" touchscreen with WVGA resolution
Powerful Intel® Atom™ processor E3825
Double DIN and fanless design for ease of integration
Support tracker function for 24/7 vehicle tracking
Built-in GPS with optional dead reckoning to acknowledge your location all the time
Wireless communication with 3.5G/LTE/Wi-Fi options
Dual CAN bus support with optional OBDII (SAE J1939) support
Wide range DC input from 9 ~ 36V
Compliant with SAE J1113, ISO7637-2 and SAE J1455 regulations
Ordering Information
IVT 1100 (P/N: TBD)
In-vehicle terminal with 6.95" touchscreen, multifunctional tracker, dual Intel® Atom™ processor E3825, 2GB of DDR3L, GPS module, and GPS antenna
Bundle Accessories
GPS/GLONASS 5M antenna, driver CD