NEXCOM DNA 1520 network platform fills the hardware gap to a service-centric network environment. Built with the Cavium OCTEON TX™ 64-bit ARM®-based SOC family, the DNA 1520 delivers excellent performance, bandwidth, security, and ruggedness all at once, helping telecommunications companies serve a broad range of network applications including networking, security, and storage services to industrial, transport, and enterprise clients in ubiquitous network environments.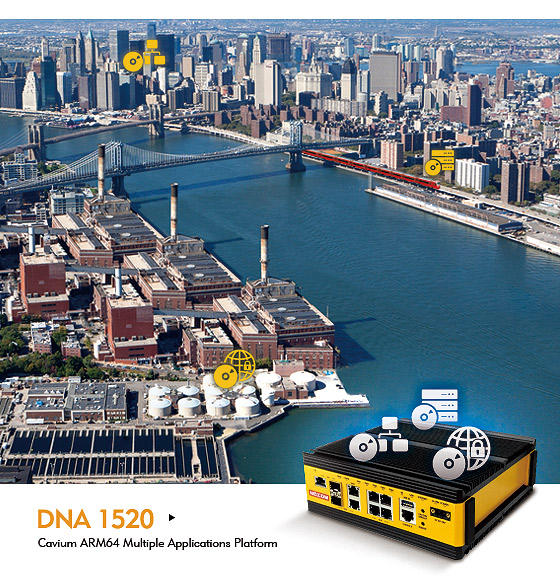 "Pushed by burgeoning IoT applications across industries, the demand for network services is springing up. As the demand varies by industry, building network services on a united network platform can save service and maintenance efforts and cost for telecommunications companies; however, a network platform suitable for all network services is hard to find. To solve this problem, the DNA 1520 taking advantage of the Cavium OCTEON TX SOCs is equipped with enhanced performance to support 10 Gigabit Ethernet connections while providing configuration flexibility and industrial grade reliability to adapt to application-specific requirements for applications including industrial firewall and VPN, IDS and IPS, SDN infrastructure, vCPE, and NAS," said Hadwin Liu, Chief Architect of NEXCOM Network and Communication Solutions Business Group.
"We are pleased to partner with NEXCOM to deliver the DNA 1520 platform. The Cavium OCTEON TX 64-bit quad-core ARM SOC family is built from ground-up for robust, enterprise class networking, security and storage applications. Its high data plane throughput, rich software ecosystem and server-class virtualization features enables DNA 1520 platform to dynamically support various network applications in the fast-growing industrial IoT networking infrastructure." said Venkat Sundaresan, Director of Product Line Marketing, Infrastructure Processor Group, Cavium, Inc.
The DNA 1520 is powered by the OCTEON TX CN80XX and CN81XX families with up to four 64-bit ARM v8.1 cores. The DNA 1520 supports 10 Gbps connections, DMZ implementation, LAN bypass, and expansion of wireless, PoE, I/O, and storage. The DNA 1520 features the extended temperature range from -20 degree Celsius to 70 degree Celsius, dual power support of 12V and 9 to 36V power supplies, fanless design, and vibration-proof connectors.
The DNA 1520 can ensure factory productivity by protecting industrial networks against unauthorized access, enhance public safety by keeping surveillance recording on public transport services, and increase client satisfaction by hosting network services in vCPE for dynamic service adjustment according to clients' needs.
Main Features
Cavium OCTEON TX ARM 64-bit CN80xx and 81xx SOC family with 64-bit ARM v8.1 cores
Onboard 1~4GB DDR4 ECC memory
Up to 2GB of onboard SLC NAND flash
802.3bz 10Gbps connections with backward compatibility with 1/2.5/5Gbps
Support 1-pair bypass feature
Support expansion of Wi-Fi/3G/LTE, 802.3at/802.3af PoE, industrial management, and storage
Dual DC power input : 9V~36V DC or 12V DC