The NDiS B336R interactive signage player serves under the sun and rain, reliably distributing message and assistance against outdoor challenges. Fanless and slim, the NDiS B336R, based on Intel® Atom™ x7-E3950 processor, incorporates graphic power for 4K contents, multi-display support, and quick-to-install designs. Coupled with high-low temperature endurance for outdoor use, the NDiS B336R can take orders at restaurant drive-thru lanes, display advertisements at high foot traffic road junctions, and assist confused tourists at attraction sites.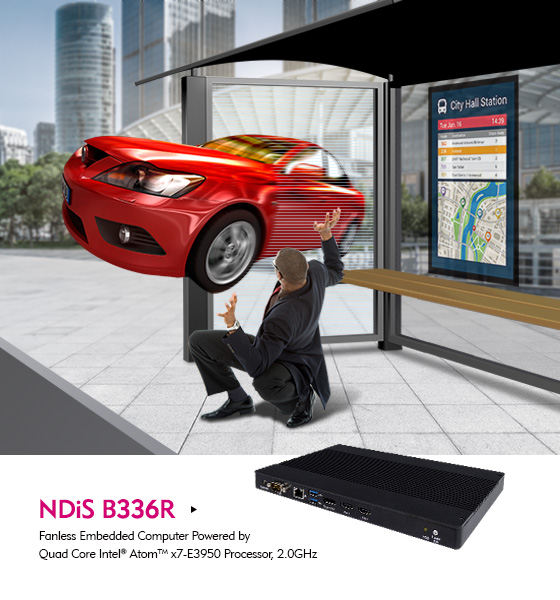 The NDiS B336R can equip a drive-thru system with interactive self-ordering functions, creating in-store like experiences for quick service restaurants (QSR). The NDiS B336R can drive three displays simultaneously, supporting a multi-display configuration with a streamlined system architecture. Besides menu items, the interactive signage player can play posters and commercial videos in Ultra HD 4K resolutions and, if outfitted with cameras, provide live video streaming for store staff to chat face-to-face with drivers.
The interactive signage player can be a cost-effective communication and advertising medium that bus operators can capitalize on. Integrating graphics engine, network support, and device connectivity, the NDiS B336R can create and show augmented reality ads to interact with waiting passengers at bus stop while displaying bus routes, up-to-the-minute estimated time of arrival, and last-minute service changes as a passenger information system (PIS).
Information stands and self-service kiosks are other applications that can be benefited from this fanless interactive signage player. With all features encased in a 21-millimeter high enclosure and major I/Os located on the same side, the NDiS B336R can integrate all required accessories, including touchscreen to show self-service information on demand, keypad for passcode entry, RFID reader for contactless payment, and printer for ticket collection, into a stylish end system while ensuring system reliability at an extended temperature range from -10 to 60 degrees Celsius for continuous operations day and night.
Main Features
Quad-core Intel® Atom™ x7-E3950 processor
Dual HDMI and 1x DP output (4K2K resolution support)
Compact and slim design (H: 21.5mm)
Wide temperature support
Support Wi-Fi, GPS, and 3G module
Fanless design
Ordering Information
NDiS B336R (P/N: 10W00B33600X0)
Slim fanless system with quad-core Intel® Atom™ x7-E3950 processor