NEXCOM has released five discreet dome megapixel IP cameras to make security surveillance undetectable and sharp-eyed. These dome cameras, with the smallest one being less than 10 centimeters in diameter, integrate several imaging technologies including up to 1080P 60fps capability, Smart IR, P-iris and True WDR to capture the details of moving objects located near and far in the day or at night. Indoors and outdoors, these dome cameras can help monitor public and private premises with discretion.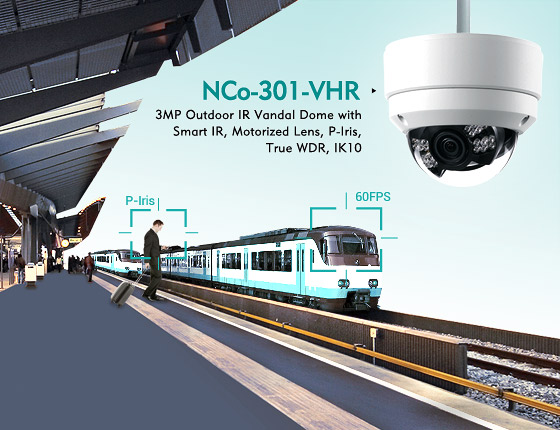 NEXCOM vandal dome camera NCo-301-VHR has been designed to capture moving objects in the open air. With 1080P 60FPS capability and P-Iris function, this megapixel IP camera can provide clear video surveillance of vehicles and trams dispersed along toll roads and railway platforms even when playing the videos in slow motion.
To ensure outdoor image quality, the NCo-301-VHR uses True WDR to shoot against strong backlight and has 25 meter night vision assisted by Smart IR, a function that can optimize the illumination density based on the objects distance. Also, this vandal dome camera is rated IP66 and IK10 to resist dust, rain and vandalism and can work within a temperature range of -40-60°C.
The NCi-301-V is a close sibling of NCo-301-VHR and features 1080P 60FPS, P-iris, and True WDR functions to support slow motion video recording in underground tube stations or indoor parking lots.
The NCi-311-R, 311, and 312 are mini dome cameras designed for indoor security surveillance. Among the rest of the three megapixel IP cameras, which all support 1080P videos at 30FPS and DWDR, the NCi-311-R with Smart IR function has a 15 meter night vision to carry out surveillance even in off-hour offices or dimly-lit warehouses; the NCi-312 with a diameter less than 10 centimeters can make security surveillance less intrusive in business, school and shop premises.
Main Features
Model Name
NCo-301-VHR
NCi-301V
NCi-311-R
NCi-311
NCi-312
Lens

Motorized

lens 3-10 mm

Motorized

lens 3-10 mm

Varifocal lens

3-10 mm

Varifocal lens

3-10 mm

Fix lens

3.6 mm

Frame Rate

1080P @60FPS

1080P @60FPS

1080P @30FPS

1080P @30FPS

1080P @30FPS

Smart IR

With 25M

With 15M

Iris

Advanced P-Iris

Advanced P-Iris

DC Iris

DC Iris

Fixed F1.8

WDR

True WDR

True WDR

Digital WDR

Digital WDR

Digital WDR

Others

IK10 IP66

-40~60°C
Ordering Information
NCo-301-VHR (P/N: 10HQ0030100X0)
NCi-301-V (P/N: 10HI0030100X0)
NCi-311-R (P/N: 10HI0031100X0)
NCi-311 (P/N: 10HI0031101X0)
NCi-312 (P/N: 10HI0031200X0)
NCi-312-2 (P/N: 10HI0031201X0)(2.8mm Lens)