NEXCOM has released the in-vehicle computer VTC 1010-IVI to help automakers develop with the latest technology in the in-vehicle infotainment segment. The feature-rich VTC 1010-IVI supports the Tizen In-Vehicle Infotainment (Tizen IVI) software platform, allowing automakers to immediately turn a vehicle into an information desk, a media service center, a Wi-Fi hotspot and even a mobile diagnostic center.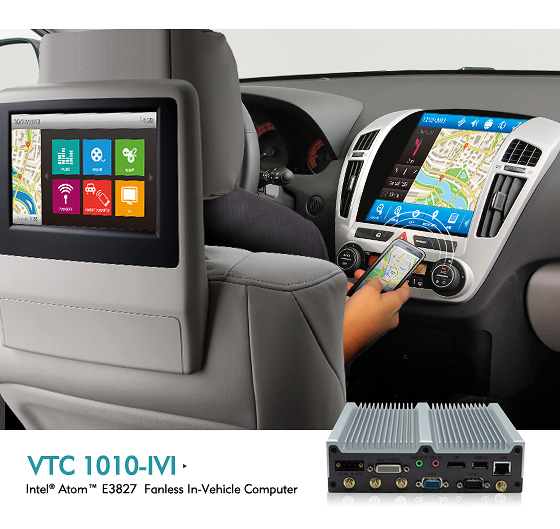 "As the vehicle is emerging as an extension of our connected life, in-vehicle connectivity becomes imperative and opens up vast potential applications of in-vehicle infotainment" said Steven Wu, General Manager of Mobile Computing Solutions at NEXCOM. "To this end, NEXCOM has built connectivity, computing, multimedia, vehicle data, and Tizen IVI compatibility into the in-vehicle computer VTC 1010-IVI. Dedicated for use in vehicle environment, the VTC 1010-IVI enables automakers to explore and validate design ideas without developing an IVI system from the ground up and therefore to narrow the time gap between concept and commercialization."
Tizen IVI is an open source software platform aimed to help facilitate innovation. Open to developers, and including common frameworks, Tizen IVI helps automakers integrate third-party vehicle applications that can span across multiple vehicle model lines and even across multiple manufacturers with capabilities such as news, real-time traffic information, navigation, on-demand multimedia streaming services, remote vehicle management, telephony, and other connected services.
"As a major contributor to the Tizen IVI project, Intel is delighted to have the NEXCOM VTC 1010-IVI available to the open source ecosystem for development of advanced connected vehicle technologies" said Mark Skarpness, director, Systems Engineering, Software and Services Group at Intel Corporation. "With Intel Architecture, Intel® HD Graphics inside, and pre-integrated automotive-specific features in both the VTC 1010-IVI platform and Tizen IVI, automakers can help reduce development costs while enriching the in-vehicle infotainment experience."
Placing a premium on connectivity, the VTC 1010-IVI is equipped with four mini-PCIe expansions to support 3G/4G networks, Wi-Fi tethering, and Bluetooth pairing with mobile devices. In addition, the VTC 1010-IVI is built with Intel® Atom™ processor E3827 with integrated Intel® HD Graphics, built-in GPS and 9-axis sensors, and supports for OBD II and CAN bus protocols to provide ideal balance of performance and power consumption.
With the VTC 1010-IVI, a connected vehicle can keep map and POI data up to date, preload a route, provide turn-by-turn and dead reckoning navigation while offering streaming media contents and internet connection based on individual passengers' needs. The connected vehicle can also perform vehicle diagnosis and report to a cloud server to allow for real-time vehicle status check and remote vehicle control to facilitate vehicle ownership, or call emergency services in case of the emergency. Furthermore, the VTC 1010-IVI can keep a connected vehicle protected with Intel® AES New Instructions technology to strengthen data security.
To withstand the rigors of automobile environments, the in-vehicle computer VTC 1010-IVI is designed to ensure reliable operation even when exposed to a temperature range of -30°C to 70°C and can resist vibration and shock based on military standard 810G. With its rich feature set and built-in robust nature the VTC 1010-IVI is a complete solution for developing from concepts of the connected vehicle all the way through to reality.
Main Features
Dual SIM card + dual WWAN module support
Built-in GPS, optional dead reckoning support
Built-in gyroscope, accelerometer, and eCompass
Intelligent vehicle power management: wake-up on ignition, RTC timer and remote dial up
Four mini-PCIe expansion slots
Two-way voice communication support
Compliant with MIL-STD-810G