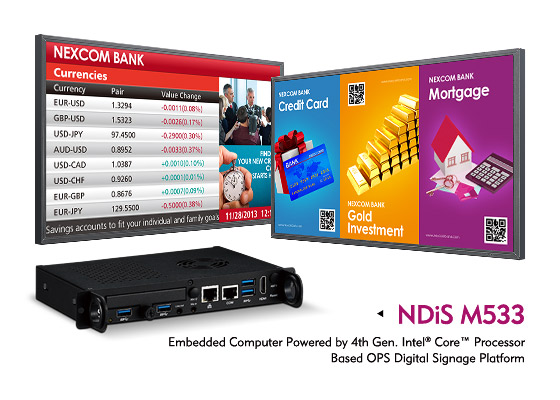 NEXCOM OPS media player NDiS M533 is designed to elevate the viewing experience with quick interactive response and 4K Ultra HD content. Featuring the 4th generation Intel® Core™ i5-4400E processor, the NDiS M533 combines premium graphics capability, improved system responsiveness, convenient remote manageability, and abundant peripheral expansion into the OPS form factor. The NDiS M533 is a persuasive communication media which can benefit education, retail and enterprise segments.
The NDiS M533 is based on the 4th generation Intel® Core™ i5-4400E processor integrated with Intel® HD Graphics 4600 and supports 16GB of DDR3L memory with bandwidth doubled by two SO-DIMMs. The NDiS M533 provides a 15% increase in its computing performance and a 30% increase in its graphic performance compared with the last generation NDiS players. The NDiS M533 has a variety of functions, including driving three large displays in 4K Ultra HD resolution, 3D gaming graphics, live video chat, anonymous video analysis, and intelligent interaction.
The NDiS M533 is an OPS-compliant module, which can be slotted into OPS displays. By reducing wiring effort and ensuring hardware compatibility, this OPS media player helps users deliver large-scale projects under tight deadlines. The modular design also facilitates future player upgrades or replacement process. Combining Intel® Active Management Technology 9.0 (Intel® AMT), the NDiS M533 can be remotely powered on/off, monitored, and controlled over network, keeping player management simple and maximizing player uptime.
As for network connectivity, the NDiS M533 is capable of Bluetooth, Wi-Fi or 3G/4G communications via mini-PCIe expansion. Also, this OPS media player offers a multitude of interfaces such as LAN, USB 3.0 and COM ports to support various off-the-shelf peripherals, for instance, barcode scanners, gauging sensors, RFID readers etc.
Main Features
4th generation Intel® Core™ i5-4400E processor
Intel® HD Graphics 4600 with DirectX 11.1 support
Dual SO-DIMM slots for up to 16GB DDR3 memory
Support 4K Ultra HD resolution
Comply with Open pluggable specification
mini-PCIe socket for WWAN/ WLAN/ TV Tuner expansion
SIM/USIM socket for GSM/UMTS network
Support remote management of Intel® AMT 9.0
Ordering Information
NDiS M533 (P/N: 10W00M53300X0)
4th generation Intel® Core™ i5-4400E processor, Intel® QM87 chipset, OPS digital signage player