NEXCOM and AuroLED have collaborated to offer safe and efficient bus travel with an on-bus intelligent transportation system (OBITS) solution which can be tightly integrated with buses to bring a combination of security surveillance, fleet management, bus driver console, and passenger information system (PIS) applications aboard public buses. Targeting bus operators with scant IT experience, the OBITS solution comes as an all-in-one package consolidating NEXCOM's rugged hardware and AuroLED's comprehensive application software to enhance safety practices and operational efficiency for public transport with little IT involvement and efforts.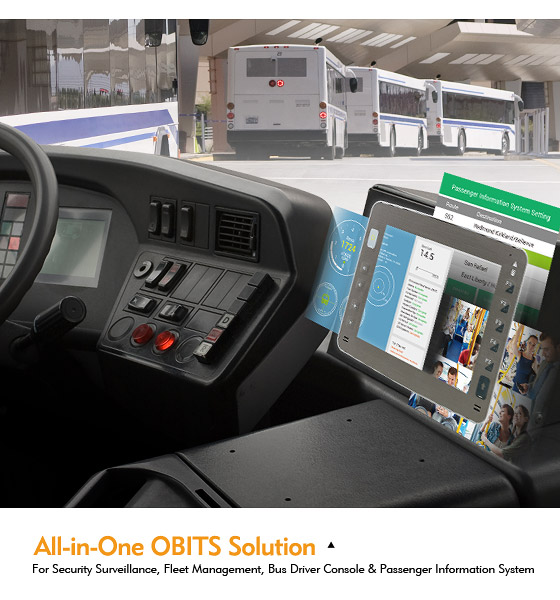 "High-mix solution requirements and the lack of commercial off-the-shelf (COTS) solutions make project implementation an arduous task. To better serve our clients, the collaboration draws on NEXCOM's hardware expertise in mobile computing and the software prowess at fleet management from AuroLED and arrives at an all-in-one solution that provides application functionality, system durability, and installation simplicity," said Leo Chang, Director of NEXCOM Mobile Computing Solutions Business Unit.
Udit Patel, Technical Director of AuroLED said, "Auro sees great quality in NEXCOM products. NEXCOM vehicle mount computer (VMC) is currently the most reliable, compact, and ease of installation mobile computing hardware used for the complex OBITS project in India. The VMC has performed extremely well under the harsh climatic conditions in India. The design is modular which helps in customization based on different customer requirements. The application development support from NEXCOM has been prompt that has helped to reduce time to market."
"The OBITS solution covers multiple applications normally tasked to discrete systems. AuroLED has exquisitely orchestrated the VMC's strengths in high performance, real-time voice and text communications, GPS tracking, and vehicle telematics acquisition, and devised an all-in-one OBITS solution that addresses the needs for security surveillance, fleet management, bus driver console, and PIS with one single system of the VMC. The insightful analyses generated by the OBITS solution have been applied to the assessment of driver behaviors, risk prevention, operational efficiency, and route scheduling. School buses will soon be another demonstration of how NEXCOM and AuroLED, by working together, can bring peace of mind to users, including schools, teachers, parents, and students. Through the joint efforts we believe we can expand our reach to the worldwide market," added Chang.
Running on NEXCOM's 10.4-inch all-in-one vehicle mount computer, the OBITS solution has been installed on over 500 city buses in various states in India, under the Jawaharlal Nehru National Urban Renewal Mission (JnNURM) aiming to encourage reforms and fast track planned development of identified cities. Under the mission, thousands of OBITS-equipped public buses fitted with PIS displays, panic buttons, security cameras, and the GPS tracking, vehicle health monitoring capability will be put on the road in the coming years.