NEXCOM has collaborated with ALTECH to enable Emergency Medical Teams (EMT) to swing into action in no time. In response to the public's calls, nearly 1000 emergency vehicles are dashing through streets and valleys with NEXCOM and ALTECH's rugged mobile solutions which provide geographic information, emergency communications, and incident management to support quick response, safe practices, and operational efficiency for emergency medical services (EMS) and other first responder units.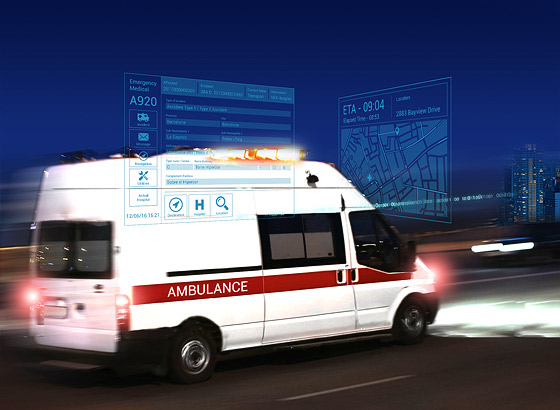 "Mobile solutions are growing in complexity with the aim to reduce the service time for EMT," said Andrés Brunet Tena, Project Department Manager of ALTECH Solutions and Consulting. Starting from ambulances being dispatched and all the way through the mission, technologies can save the time and effort associated with ambulance dispatch, travel, and hospital turnaround. "As an IT company focusing on mobile solutions for emergency services and security forces, ALTECH finds that NEXCOM's VTC series of in-vehicle computers are high-quality robust platforms which integrate mobile computing, wireless communication, and device connectivity and guarantee successful project implementations," added Mr. Brunet.
When an EMT is mobilized, EMT staff can find GPS coordinates and the fastest route, based on live traffic flow, preloaded to a VTC-enabled ambulance, receive incident updates en route, and arrive on the scene within minutes if it is a life-threatening incident. The EMT can use LTE, TETRA, or satellite channels to communicate a patient's status with a service center which can then notify hospitals of a patient's status and estimated time of arrival to smooth the following patient handovers at hospital, therefore going back in service for another mission quickly. "ALTECH exploits the VTC's information technology strengths to serve our clients with the most innovative and reliable solutions, so service centers, ambulances, and hospitals' emergency departments can coordinate together to enable patients to be treated promptly on the scene and admitted to hospitals with adequate resources, elevating the efficiency of EMS. In the joint effort, ALTECH's VTC-based mobile solutions have been adopted in medical emergencies, fire rescues, and airport ground operations in Spain," said Leo Chang, Director of NEXCOM Mobile Computing Solutions Business Unit.
Currently nearly 1000 ambulances outfitted with ALTECH's VTC-based mobile solutions are operating as a part of Catalonia EMS, Sistema d'Emergències Mèdiques (SEM), while a few hundreds of VTC-equipped ambulances are enrolled in Madrid EMS, Servicio de Urgencia Médica en la Comunidad de Madrid (SUMMA 112). Another 50 units of VTC-based mobile solution are installed in airport trucks and follow-me vehicles to conduct emergency relief and rescue missions for Aena. With the EMT being one of major out-of-hospital care providers, there are more than 300 service centers in 17 regional autonomous communities across Spain, looking after the health of Spanish people.