To expedite IoT innovations, NEXCOM is offering free download of NEXCOM IoT Studio—a web-based configuration tool—for programming-free system deployment. With click-through and drag-and-drop operations, NEXCOM IoT Studio simplifies the development cycle of IoT applications, enables immediate testing of innovative ideas, and turns proof-of-concept inventions into wide-scale deployment.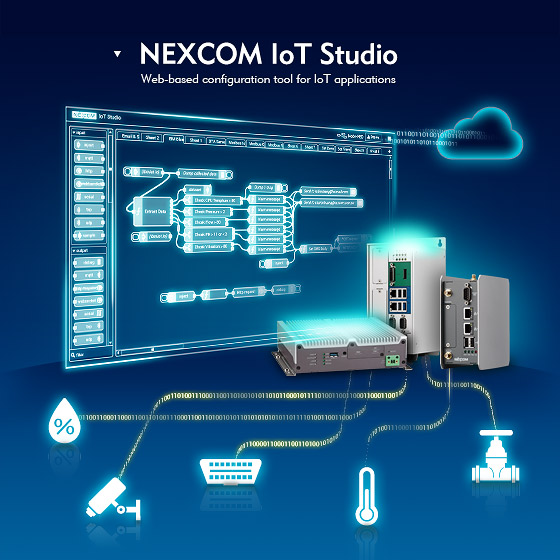 "The value of Internet of Things is tremendous and yet to be explored. To accelerate the overall development process of IoT innovations, NEXCOM IoT Studio is designed as a straightforward configuration tool which allows developers to implement customized features by taking advantage of pre-integrated functions, and reduces system configuration to a few clicks and drag-and-drops—the processes which previously required developers to manually write thousands lines of code. By making NEXCOM IoT Studio available free for download, NEXCOM hopes to see more IoT applications swing into action," said Alex Perng, General Manager of NEXCOM's IoT Business Unit.
With NEXCOM IoT Studio Agent installed on field devices, developers can start creating IoT applications using the web-based NEXCOM IoT Studio configuration console. The console provides an easy, intuitive click and drag-and drop operation for developers to define what data needs to be collected, how data should be processed, and where data is to be sent. Developers can also check device health status and modify device settings in the console, remotely managing, configuring and maintaining devices to maximize application availability.
Leveraging pre-integrated 3rd party APIs, developers can seamlessly connect on-premises devices to cloud service platforms, enabling more actions to be taken in response to events. The integration offers fast tracks to the cloud, giving developers the ability to determine data paths for sending the data collected from the edge to designated servers or cloud service providers over the Internet or Intranet while saving them time and effort in adapting different cloud services to their applications. As a result, developers can focus on innovating IoT applications without the need to build applications from scratch.
To broaden its appeal to more developers, NEXCOM IoT Studio supports various I/O interfaces, internet standards, industrial fieldbus interfaces, and IoT protocols. The applications are wide and include environmental monitoring in air quality mapping, facility management in smart building, predictive maintenance in industrial automation and control, and on-shelf availability tracking in retail among others.
For the rapid rollout of IoT applications, NEXCOM IoT Studio is available on NEXCOM IoT gateway NIO series and compatible with Raspberry Pi™ computer, Intel® Edison compute module, and MediaTek LinkIt™. NEXCOM IoT Studio download is free at http://www.alliotcloud.com