NEXCOM mobile surveillance system MVS 5200 series turns video images into operational intelligence, watching over public safety and transport operation. Based on Intel® Core™ processors, the MVS 5200 series features the caliber of microservers, mobile NVRs, and data loggers to bring real-time intelligence on board of public transport. With abilities to see, sense and think, the MVS 5200 series can help detect suspicious objects, fight crimes, and prevent fare evasion, effecting safety and efficiency improvements for buses, metro transit systems, rails, and more.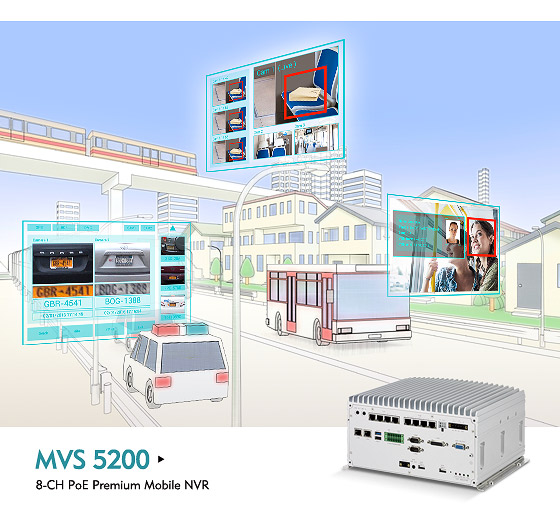 The MVS 5200 series equips high processing power required for compute-intensive analysis. Available with Intel® Core™ i7-5650U or i3-5010U processor, the MVS 5200 series can analyze surveillance videos and in-vehicle sensor data. To enhance transport safety, the MVS 5200 series can detect unattended packages to enable potential security threats to be contained timely. The mobile surveillance systems can even run automated number plate recognition (ANPR) if installed on patrol vehicles, driving vehicles of interests and high risk drivers off road. For the sake of fare evasion, the MVS 5200 series can calculate the ridership, identify ineligible ticket holders based on their demographics, and allow revenue enforcement actions to be taken.
To coordinate information from multiple data sources, the MVS 5200 series has packed a rich set of interfaces and sensors. Eight PoE ports are provided to connect and power high resolution surveillance cameras and for simplified wiring, while a CAN connector and DI/Os are in place to gather engine speed, tire pressure, and brake status from in-vehicle sensors. And there are G-sensor and GPS receiver giving location information and vehicle traces. The driver ID is a notable addition which can be obtained through serial connections.
For analysis or documentation purposes, all videos and sensor data can be fused to create an integrated view of an event, set to trigger a reaction, and displayed in both live and playback mode. Up to 4 terabytes of analysis results, video images, and sensor data can be held utilizing two HDD/SSD bays. Still, high speed internet is supported with one Wi-Fi and two 3G/LTE connections to allow for cloud backup, remote monitoring, and emergency alerts.
Dedicated to mobile applications, the MVS 5200 series incorporates low power protection, ignition delay, and an optional battery pack against unstable power supply of public transport. Moreover, the MVS 5200 series can swing into action once detecting abnormal activities even in the power-off state. Adding to these smart power management features, the MVS 5200 series is fanless to persistently deliver high system performance despite adverse environments.
The mobile surveillance system MVS 5200 series delivers different levels of performance with the MVS 5200 based on Intel® Core™ i3-5010U and the MVS 5210 based on Intel® Core™ i7-5650U—both for buses, coaches, and patrol vehicles. Meanwhile, the EN50155-certified MVS 5210-RA and MVS 5210-RF, supporting 24V and 110V power input respectively, are aimed at rapid transit, light rail, and railway transportation.
Main Features
Microserver Function Set
Dual core Intel® Core™ i7-5650U or i3-5010U processor
Up to 16GB of DDR3L 1600MHz industrial grade memory
3x mini-PCIe sockets with support for USB, PCIe, and mSATA interfaces
2x externally accessible SIM card sockets (selectable) and 1x internal SIM card socket
Power management for low power protection, power on/off delay, and optional battery pack
Fanless design
Mobile NVR Function Set
Pre-installed with VMS software
Video codec: H.264, audio codec: G.726/G711
Live and playback mode: 1/4/9 split with VGA output
Recording: round the clock/motion record/event trigger
Video stamping: vehicle number/location/time/event information
8x 10/100/1000 Mbps 802.3af PoE ports for up to 5M recording
Up to 4TB with two removable SATA 3.0 SSD/HDDs
Disk Management: partition management, format partition, S.M.A.R.T status
Data Logger Function Set
Built-in CAN 2.0B. with OBDII function (SAE J1939) option
G-sensor and GNSS module for GPS/ GLONASS /QZSS/Galileo/BeiDou
24/7 GNSS tracking support even in the power-off state
Dead reckoning (optional)
8x GPIO, analog input, speed frequency input
Driver identification with iButton and RFID input
2x RS232/422/485, 3xUSB
Ordering Information
MVS 5210-BK (P/N: 10VS0521000X0)
Dual-core Intel® Core™ i7-5650U, 2.2GHz, 2GB DDR3 industrial grade SO-DIMM, 8x 10/100/1000 PoE, 2x 10/100/1000 Ethernet, VGA/LVDS output, 2x RS-232/422/485, 3x USB, 12VDC output, 1 x CAN
MVS 5200-BK (P/N: 10VS0520000X0)
Dual-core Intel® Core™ i3-5010U, 2.1GHz, 2GB DDR3L industrial grade SO-DIMM, 8x 10/100/1000 PoE, 2x 10/100/1000 Ethernet, VGA/LVDS output, 2x RS-232/422/485, 3x USB, 12VDC output, 1 x CAN
MVS 5210-RA (P/N: 10VS0521001X0)
24VDC input, dual-core Intel® Core™ i7-5650U, 2.2GHz, 2GB DDR3 industrial grade SO-DIMM, 8x 10/100/1000 PoE (M12 connector), 2x 10/100/1000 Ethernet (M12 connector), VGA/LVDS output, 2x RS-232/422/485, 3x USB, 12VDC output
MVS 5210-RF (P/N: 10VS0521002X0)
Isolated 110VDC input, dual-core Intel® Core™ i7-5650U, 2.2GHz, 2GB DDR3L industrial grade SO-DIMM, 8x 10/100/1000 PoE (M12 connector), 2x 10/100/1000 Ethernet (M12 connector), VGA/LVDS output, 2x RS-232/422/485, 3x USB, 12VDC output