A reliable and safe transportation system is significant in improving the economic development, health, and well-being of the society. Today, countless people rely on public transportation to commute to healthcare services, whereas businesses depend on it to lower costs. NEXCOM reacts to the issue by introducing VES 31-4S/8S and VES 31-4SR/8SR, the fanless unmanaged mobile vehicle and railway PoE switch respectively. Certified along with unique features, it is designed for telematics applications such as surveillance management, wireless gateway, and Passenger Information System (PIS) applications.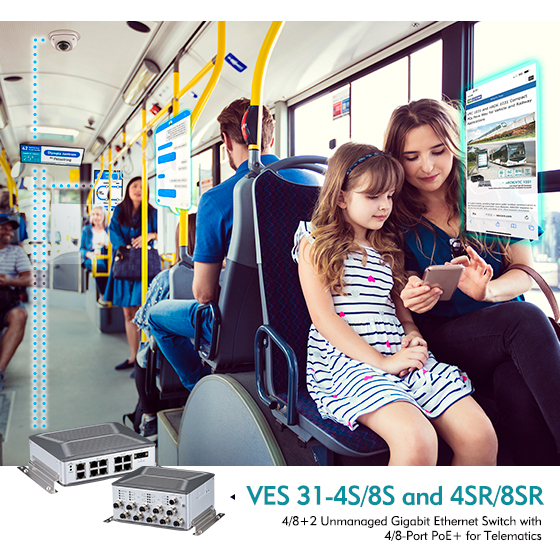 Steady as a Rock
Besides the CE/FCC/UKCA, the reliable mobile vehicle and railway PoE shwitc are certified with E13 mark and EN50155 respectively. Enclosed in a fanless dustproof chassis, it supports a wide voltage input range of 9VDC to 36VDC. Moreover, both mobile Ethernet switches are fully operable under shock, vibration, and a harsh temperature range of -40°C to 70°C. Unique features include auto ignition power on/off function and low battery voltage protection to avoid battery drainage. In addition to power-on and power-off delay timer for wireless data transmissions or power surge preventions.
Round-The-Clock Surveillance
The VES 31-4S/8S and VES 31-4SR/8SR ensure stable network service with its 4/8 PoE+ standard with a total of 120W output and 2 Gigabit Ethernet ports; with M12 X-coded connectors for the latter model. Both mobile PoE switches offer the flexibility in connecting up to 8 IP cameras. For AI applications, the switch can connect with IP cameras and AI devices to reduce potential accidents by performing drivers' behavior, traffic light recognition, theft detection, or railway intrusions. For further security, all recorded footage can be sent and stored in the NVR via VES 31-4S/8S or VES 31-4SR/8SR for future reference.
Uncluttered Yet Efficient
Through the connection of a wireless access point, this compact mobile PoE switch makes wireless gateway connection more convenient. It eliminates the need for additional power cables while offering high-speed, low-latency WWAN/WLAN connections to fulfill tasks, entertainment, and infotainment demands.
Time Is of the Essence
The highly practical and demanded PIS is also provided by the mobile vehicle and railway PoE switch with its seamless transfer of large amounts of video stream, voice, and critical data via an Ethernet network. The access point receives and converts data as a wireless signal across the cabins' monitor. PIS assists travelers to reduce their uncertainty and plan their busy schedules in the most productive manner possible.
The certified VES 31-4S/8S and VES 31-4SR/8SR are highly dependable solutions that strengthen transportation communication through surveillance, 5G/Wi-Fi, and PIS. Transmitting data smoothly under the harshest environment, these mobile PoE switches overcome the nature of vehicle roads and railways, bringing forth a pleasant journey.
Main Features
4/8 x IEEE 802.3af/at-compliant Gigabit Ethernet ports, 120W
4/8 PoE+ standard + 2 x Gigabit Ethernet ports (with M12 X-coded for VES 31-4SR/8SR)
Low battery voltage protection
Jumbo frame support (up to 9216 bytes)
CE/FCC/UKCA
E13 Mark certification (VES 31-4S/8S)
EN 50155 class OT4 conformity (VES 31-4SR/8SR)
Wide power input range 9~36VDC
-40~70°C operating temperature
Ignition power on/off support
Power on/off delay time setting
Ordering Information
VES 31-4S (P/N: 10VE0003100X0)
4 x RJ45 10/100/1000 PoE port (802.3af/at), 2 x RJ45 10/100/1000 Ethernet port, 9~36VDC input, ignition detection, low voltage protection, delay timer, E13 Mark
VES 31-8S (P/N: 10VE0003101X0)
8 x RJ45 10/100/1000 PoE port (802.3af/at), 2 x RJ45 10/100/1000 Ethernet port, 9~36VDC input, ignition detection, low voltage protection, delay timer, E13 Mark
VES 31-4SR (P/N: 10VE0003102X0)
4 x M12 X-Coded 10/100/1000 PoE port (802.3af/at), 2 x M12 X-coded 10/100/1000 Ethernet port, 24VDC input w/o isolation, ignition detection, low voltage protection, delay timer, EN50155
VES 31-8SR (P/N: 10VE0003103X0)
8 x M12 X-coded 10/100/1000 PoE port (802.3af/at), 2 x M12 X-coded 10/100/1000 Ethernet port, 24VDC input w/o isolation, ignition detection, low voltage protection, delay timer, EN50155