NEXCOM passenger signage NDiS A322 delivers message here, there, and everywhere, sending live status updates to every corner of buses and station platforms. Powered by Intel® Celeron® processor N2807, the NDiS A322 features the Full HD multi-streaming capability to distribute video streams to up to eight displays. Combining the internet and GPS support and rugged design for use on buses and at station platforms, the NDiS A322 can help transport operators cultivate information-savvy passengers, building up a reputation for passenger-friendly services.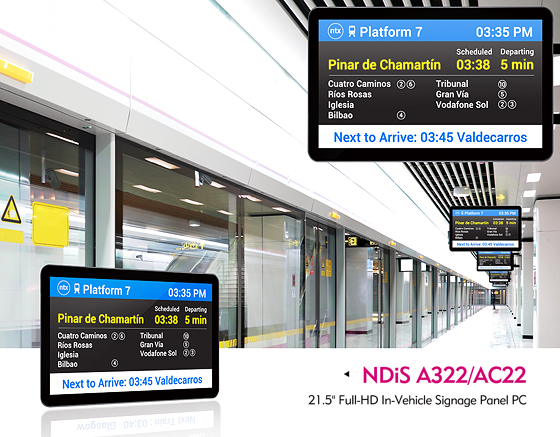 The passenger signage NDiS A322 comes with Intel® Celeron® processor N2807 and a 21.5-inch Full HD widescreen display. Supporting the daisy-chaining technology, the NDiS A322 can share Full HD videos with up to eight daisy chainable displays like NDiS AC22 over the LAN connection. Allowing central control of message delivery and with a coverage range of 60 meters per connection, the NDiS A322 makes an ideal passenger signage and PIS controller, feeding real-time travel information all over the place.
The NDiS A322 can not only update passengers with the current location, arrival time, any service disruptions, and other travel information. The passenger signage can also play ads and TV programs for advertising and entertainment purposes. To deliver location information and live service updates, the NDiS A322 is equipped with a mini PCIe slot to be configured with GPS and internet connectivity; a full-size PCIe slot is also available to connect TV tuner adapter, giving the NDiS AC322 the access to a wide variety of TV programs.
For in-vehicle and semi-outdoor environments, the NDiS A322 is designed to ensure high system availability faced with adverse challenges. For instance, the NDiS A322 is compliant with E-Mark specifications for use on vehicles and can be powered by both 12V and 24V automobile batteries. In high ambient lighting the NDiS A322's high brightness LCD display can increase visibility and automatically adjust the brightness based on the ambient light level. Also, the front panel is compliant with the IP54 rating to withstand rain, splashing, and dust and made of tempered glass to provide protection against vandalism.
Main Features
Intel® Celeron® processor N2807
21.5" display panel protected by tempered glass
Support up to eight displays with daisy chaining
Auto-dimming to adjust the screen's brightness
Support W-Fi, GPS, and 3G module
Wide range DC input from 9V to 36V
IP54-rated front bezel
Fanless design
Ordering Information
NDiS A322 (P/N: 10W00A32200X0)
AIO digital signage player powered by Intel® Celeron® processor N2807
NDiS A322T (P/N: 10W00A32201X0)
AIO digital signage player powered by Intel® Celeron® processor N2807 with 1 x CAT5 extender for daisy chain HDMI/VGA over IP technology
NDiS AC22 (P/N: 10W00AC2200X0)
21.5" Full HD display with CAT5 interfaces