NEXCOM's KPPC series of all-in-one kiosk panel PC offers exceptional durability and functionality thus making it perfect for use as a self-service interactive kiosk within industries such as hospitality, retail, gaming, transportation, medical and other markets. The series features a 15" true flat screen with projected capacitive multi-touch technology, VESA mount, various external interfaces for increased functionality, and a range of processor options to allow a wide spectrum of applications to be addressed.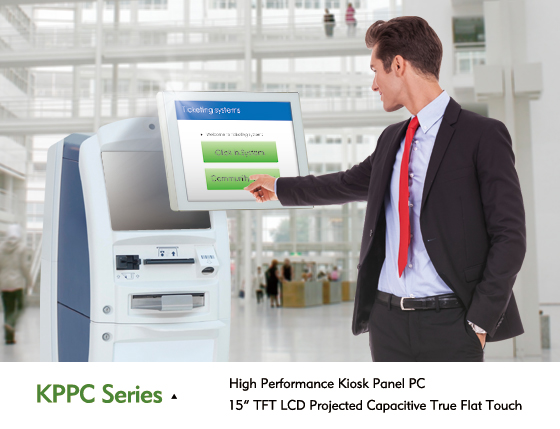 Advanced and Stylish PCT Touch
In the hospitality and retail industry, the durability of the touch screen on self-service kiosks is a critical factor, as it is used vigorously by the general public. Workspace is also another valuable asset to retail owners. Designed to address these concerns, the KPPC series of panel PCs is equipped with a zero bezel, 15" projected capacitive multi-touch screen that is durable, yet visually appealing, and supports VESA mounting that allows retailers to utilize workspace more efficiently. In addition, the panel is IP65 certified, providing reliability in harsh environments. There is also a removable hard drive that offers quick maintenance in the event of repair or replacement, minimizing downtime cost for businesses.
Flexible Peripheral Integration
The KPPC series of panel PCs contains various ports for external peripheral devices such as receipt printer, keypad, barcode scanner, optical mark reader (OMR) to support an array of self-service kiosk applications. In addition, it can connect up to two cash drawers and a magnetic swipe reader (MSR), turning it into a POS terminal for added functionality. Furthermore, there is a spare VGA port and 12V DC output to power a second display that can be used for digital signage or as another touch screen monitor to enhance business advertising or user experience.
Diverse Processor Options
To meet a diverse range of application performance needs, the KPPC series is available in two models with different processor configurations. The high performance model, KPPC 5852, can be configured with a selection of 2nd and 3rd generation Intel® Core™ processor family. The second model, KPPC 1552, is a high value and fanless terminal based on Intel® Atom™ processor D525.
Main Features
Wide CPU options from Intel® Atom™ to 3rd gen. Intel® Core™ processor family (KPPC 1552/ 5852)
15" projected capacitive true flat touch screen
1x VGA/ 1x GbE LAN/ 4x RS-232/ 4x USB 2.0/ 1x DB-25/ 1x RJ11
Diverse mounting options – VESA/ tabletop/ embedded mount
IP65 front enclosure for water and dust protection
Swappable HDD drawer for easy maintenance
Ordering Information
KPPC 1552-010 (P/N: A0YK0155200X0)
Intel® Atom™ processor D525, 15" XGA 1024 x 768 250nits/ PCT zero bezel touch, 2GB DDR3 SO-DIMM, 160GB 2.5" SATA 5,400rpm, DC-12V/ 100W power brick, color: beige
KPPC 1552-030 (P/N: A0YK0155201X0)
Intel® Atom™ processor D525, 15" XGA 1024 x 768 250nits/ PCT zero bezel touch, 2GB DDR3 SO-DIMM, 160GB 2.5" SATA 5,400rpm, DC-12V/ 100W power brick, color: black
KPPC 5852-010 (P/N: A0YK0585200X0)
Intel® Pentium® Processor B950, 15" XGA 1024 x 768 250nits/ PCT zero bezel touch, 2GB DDR3 SO-DIMM, 160GB 2.5" SATA 5,400rpm, DC-19V/ 120W power brick, color: beige
KPPC 5852-030 (P/N: A0YK0585201X0)
Intel® Pentium® Processor B950, 15" XGA 1024 x 768 250nits/ PCT zero bezel touch, 2GB DDR3 SO-DIMM, 160GB 2.5" SATA 5,400rpm, DC-19V/ 120W power brick, color: black