Security surveillance platform NViS 6210/6220 has a combination of great features at an exceptional price point. Featuring the 2nd generation Intel® Core™ i3/i5/i7 desktop processors, the NViS 6200 series is capable of simultaneous recording and display for up to 32 channels. With video decoder chips onboard, NViS 6200 series ensures highly reliable performance in a sturdy 2U chassis. Incorporating Intel® vPro™ technology, NViS 6200 series is the ideal platform for large scale security surveillance deployments including metropolitan security, public safety, enterprise security, and buildings security.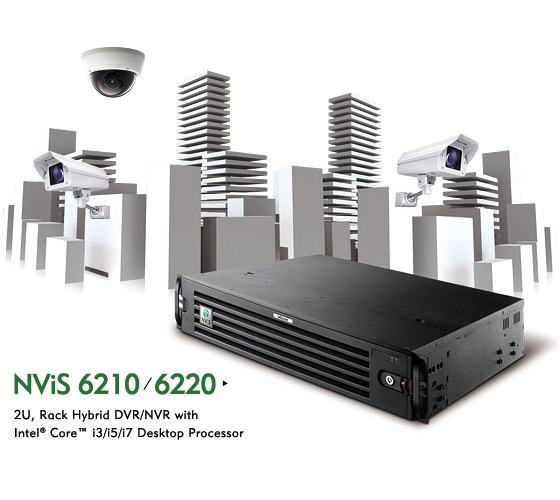 Too Good to Be True
Powered by the 2nd generation Intel® Core™ i3/i5/i7 desktop processors with Intel® HD Graphics 2000, NViS 6200 series blends prominent NVR functions including live view, recording and playback into one single platform. This series can simultaneously connect to 32 channels of high megapixel cameras and process images in 720x480 D1 resolutions at 960fps.
NViS 6210 particularly is a hybrid DVR, which integrates legacy analog cameras with new IP-based features. This security surveillance platform allows users to reap benefits of both NVR and DVR and facilitates migration to IP surveillance.
In addition, NViS 6200 series with Intel® vPro™ technology supports remote management that enables IT professionals to remotely acquire platform status and perform system upgrade and maintenance. NViS 6200 series can therefore drive down operation time and maintenance costs.
Augmented Reliability with Onboard Video Decoder
The video decoder chip is brought onboard to prevent the problem of component incompatibility so that blue screen error, random freezing and other nuisance can be avoided, thus increasing systems availability. NViS 6200 series is offered with optional third party VMS software; however for users in favor of customized applications, NEXCOM provides SDK support that can accelerate software development.
Expandability and Efficiently with Extensive I/O Interfaces
NViS 6200 series's 2U form factor also plays an important role in deployment. Security surveillance platforms with similar features almost always come in 3~4U chassis. Nevertheless, NViS 6200 series is encased in an industrial-server grade 2U rackmount chassis which not only takes up less space but offers sturdy protection to your investment.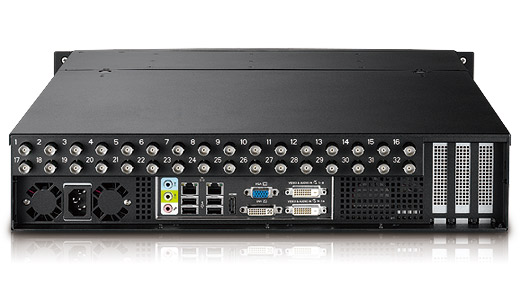 As a security surveillance platform, NViS 6200 series is capable of storing large amounts of data. More than 16TB data can be saved when eight hot swappable HDD bays are all loaded. NViS 6200 series can also protect data against loss in occurrence of HDD failure and accelerate data access across multiple disks if the PCIe x16 slot is configured with RAID controller. Other prominent features include one mini-PCIe slot for mSATA SSD, two Intel® GbE ports for network connectivity, and dual display ports for independent contents.
Target Application
Metropolitan Security
Public Safety
Enterprise Security
Buildings Security
Main Features
2U Rackmount Hybrid DVR with BNC Connectors Published
Support 2nd Generation Intel® Core™ i3/i5/i7 Desktop Processor
Video Decoder (TW6816) Chips On-board
Up to 32 CH 960/900FPS@D1 Display & Recording
8x Hot swappable 3.5" HDD Tray
Dual Local Display by (VGA+DVI), (VGA+HDMI) or (DVI+HDMI)
2x Intel® Gigabit Ethernet/ Support Intel® AMT 7.0 for Remote Management
1x PCIe x16 Slot, Support SATA3.0, RS232/422/485
SDK support (Windows platform)
Product
NViS6210-16CH
NViS6210-32CH
Video Input

16

32

Audio Input

16

32

Video Format
(Display)

NTSC

PAL

YUY2

720×480×30FPS

720×576×25FPS

640×480×30FPS

640×576×25FPS

720×240×30FPS

720×288×25FPS

640×240×30FPS

640×288×25FPS

320×240×30FPS

320×288×25FPS

Video Recording

NTSC

PAL

S/W MPEG4 or S/W H.264

720×480×30FPS

720×576×25FPS

640×480×30FPS

640×576×25FPS

720×240×30FPS

720×288×25FPS

640×240×30FPS

640×288×25FPS

320×240×30FPS

320×288×25FPS

Audio Format

MONO/ 8- 16BITS / 8000- 48000HZ

I/O

Yes (optional)

SDK

MONO/ 8- 16BITS / 8000- 48000HZ
Ordering Information
NViS 6210-16 (P/N: 10C0621000X0) RoHS Compliant
2U, 16CH hybrid DVR with Intel® Core™ i3/i5/i7 processors
NViS 6210-16 (P/N: 10C0621000X0) RoHS Compliant
2U, 32CH hybrid DVR with Intel® Core™ i3/i5/i7 processors
NViS 6220 (P/N: 10C0622000X0) RoHS Compliant
2U, NVR with Intel® Core™ i3/i5/i7 processors