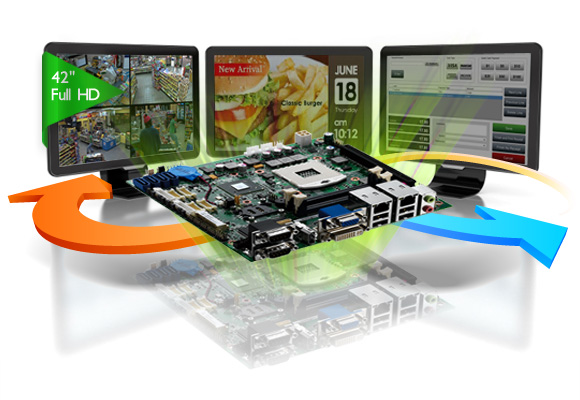 NEXCOM NEX 607 is a Mini-ITX industrial motherboard for embedded computers. This board supports the Intel® Core™ i7/ i5/ i3 and Intel® Celeron® mobile processors with FCPGA 988 socket. Paired with QM67 PCH chipset and integrated Intel® HD Graphics 3000 engine, this board has powerful graphics performance and is ultra-reliable. With support for up to 8GB DDR3 1066/1333Mhz memory, NEX 607 enables most multi-media applications include digital signage, POS, multimedia, storage server, machine automation and factory automation.
Finer Graphics for Larger Dual Displays
NEX 607 is an industrial-grade Mini-ITX motherboard, based on the Intel® QM67 PCH (Platform Control Hub) and powered by latest Intel® Core™ i7/ i5/ i3 and Celeron® Mobile CPU. The integrated HD3000 (Core™ i7/ i5/ i3) graphics controller includes Intel® Dynamic Video Memory Technology and Intel® Clear Video Technology.
NEX 607 supports dual independent display with output resolutions up to 2048x 1536 for VGA; and up to 1920x 1200 for DVI-D. Onboard HDMI delivers uncompressed HD video and uncompressed multi-channel audio in a single cable, supporting all HD formats including 720P, 1080i and 1080P.
The standard NEX 607 has a built-in dual channel 18/ 24-bit LVDS1 interface and is targeted at embedded computers for machine automation, factory automation and industrial control. For the growing number of applications within multimedia, digital signage, video wall, infotainment and gaming a second variant of the NEX 607 is available with LVDS2 interface (dual channels 18/ 24-bit LVDS by CH7308 SDVO/ LVDS) which will support large screen displays. This variant also has an optional Trusted Platform Module (TPM) making it perfect for secure applications.
Quick Access to Mass Data
NEX 607 powered by Intel® QM67 PCH chipset has four SATA hard drives to provide quicker access to digital images, video and data files. The build-in powerful SATA interface enables fast connection of up to 3 Gb/s and greater protection against hard disk drive failure with software RAID 0, 1, 5 and 10 for external storage devices such as video streaming appliances as well as network storage server.
NEX 607 has a multitude of I/O interfaces, one full-size mini-PCIe slot with SIM-tray, one standard PCIe x16 expansion slot, four serial ports (COM2 as RS-232/ RS-422/ RS-485 pre-selected by BIOS), four SATA ports and up to ten USB 2.0 ports, dual-display output with several interface options including VGA, DVI-D, HDMI by Mini-ITX edge I/O connectors.
NEX 607 also comes with dual PCI Express based dual Gigabit Ethernet LAN, one with Intel® 82579LM PHY for AMT 7.0 and one design-in by 82574L GbE controller, which support embedded computer with PXE booting. All of these features are packed onto a Mini-ITX form factor, giving the Industrial-Grade NEX 607 exceptional flexibility and an affordable total cost-of-ownership.
Professional Conformal Coating Service
Embedded computers operate more than often in hostile environments. To this end, NEXCOM offers further protection for its embedded boards with optional conformal coating service which is conducted by automated machinery in a high-speed and high-precision manner. With the conformal coating, embedded application will be protected against possible intrusions of humidity, dust, and temper mechanical vibrations that might stress electronic circuits.
Main Feature
Embedded Intel® QM67 PCH chipset supports Intel® Core™ i7/i5/i3 and Intel® Celeron® Mobile
Two 204pins SO-DIMM/ DDR3 1066/1333 SDRAM up to 8 GB
Supports dual display of VGA , DVI-D, HDMI and max. two dual channels LVDS1/ LVDS2 (optional)
Supports 2x Intel® GbE, 4x SATA, 4x COM, 10x USB and HD Audio
Support Software RAID 0, 1, 5 and 10
Supports PCIe x16 and mini-PCIe
Supports AT/ ATX mode and single +12Vdc input
Ordering Information
NEX 607 (P/N: 10G00060700X0) RoHS Compliant
Mini-ITX, 2nd generation Intel® Core™ i7/ i5/ i3/ Celeron® M uFC-PGA988 with QM67 supports VGA/ LVDS/ HDMI/ DVI-D, 2DDR3/ SO-DIMM, 2GbE/ 4SATA/ 4COM/ 10USB, mPCIe, PCIe x16 single +12Vdc input
Standard NEX 607 and optional TPM/ LVDS2
Model
Standard NEX 607
for Industrial Automation
Optional TPM/ LVDS2
for Multimedia Application
CPU

2nd generation Intel® Core™ i7/ i5/ i3/ Celeron® M uFC-PGA988
with Intel® QM67 PCH Chipset

| | | | | |
| --- | --- | --- | --- | --- |
| Processor | i7-2710QE | i5-2510E | i3-2330E | Celeron® B810 |
| # of Core | 4 | 2 | 2 | 2 |
| Clock Speed | 2.1GHz | 2.5GHz | 2.2GHz | 1.6GHz |
| Max. TDP | 45W | 35W | 35W | 35W |

2nd generation Core™ processor with F CPGA988 comparison/ tested by NEXCOM
http://ark.intel.com/compare/53472,53456,53433,55657
Display
(A choice of two)
VGA
DVI-D
HDMI
LVDS1 (dual channels 18/24-bit LVDS)
VGA
DVI-D
HDMI
LVDS1 (dual channels 18/24-bit LVDS)
LVDS2 (dual channels 18/24-bit LVDS by CH7308 SDVO/ LVDS)
Security

Non TPM support

Optional TPM support
(Infineon: SLB9635TT12)

Expansion

1x mini-PCIe
1x PCIe x16

1x mini-PCIe
1x PCIe x16

I/O Interface

3x RS-232
1x RS-232/422/485 port
4x SATA
10x USB
4-in/4-out GPIO
Mic-in, Line-out

Dual Gigabit Ethernet

Intel® Gigabit Ethernet Controllers (Intel® 82579LM and 82574L)

Applications

Machine automation
Factory automation
Industrial control

Digital Signage
POS/ Kiosk/ Banking/ ATM
Multimedia/ Infotainment System
Mass Storage Server
Network Attached Storage