The NVIDIA® Jetson™ series opens the door to powerful edge computing without the overhead of power-hungry GPU add-on cards. The NVIDIA® Jetson Xavier™ NX strikes the right balance between power savings and onboard processing power on a single space-saving SoM. Now, the NEXCOM ATC 3530 harnesses that power by combining in-vehicle functionality with AI-aided recognition computing into an IP67 compact fanless embedded system ready for vehicle-to-everything (V2X) inference workloads.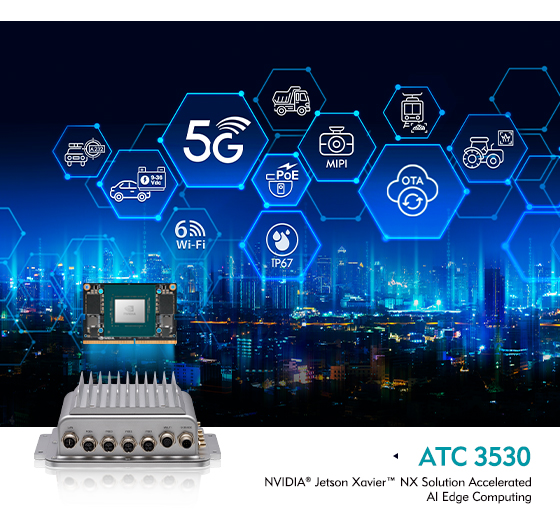 Robust and AI-Ready
The ATC 3530 has an NVIDIA® Jetson Xavier™ NX SoM, with 384 NVIDIA CUDA® Cores, 48 Tensor Cores, 6 Carmel ARM CPUs, and two NVIDIA® Deep Learning Accelerators (NVDLA) engines, together delivering 21 TOPS, and making it ideal for high-performance compute and AI. The ATC 3530 sets itself as a key piece for implementing V2X in the smart city development puzzle, working together with other technologies such as M-to-M, X2X, AIoT gateways and nodes, and cloud-edge AI over mesh wireless. Importantly, for industrial embedded systems, the Xavier NX also includes a long life cycle past 2026. The ATC 3530 is compact enough for installation in confined spaces, and it is rated IP67, certification of its protection against dust and water. Together, these features make it ideal for AI-aided in-vehicle applications.
High-Resolution Video For Accurate AI Recognition
Accurate AI inference hinges on the resolution of the video input. Simply put, the higher the quality, the more accurately the AI can "see" what it needs to see. Video support is up to 16x the 1080p30 decoder power, equating to 16 IP cameras with a resolution of 1080p at 30 frames per second. As 4k2k is precisely 4x the bandwidth of 1080p30, the four video inputs on the ATC 3530 handle up to 4k2k each. Two ATC 3530 models are available, with two different video capture technologies: Ethernet package IP CAM and MIPI SerDes.
GbE PoE: Four GbE PoE connectors on the ATC 3530-IP7-4C support up to four 4k2k IP cameras. Video streams are encoded at the camera end, and the ATC 3530 has a powerful hardware decoder capable of decoding all four encoded video streams at a time.
MIPI SerDes: Four MIPI connectors on the ATC 3530-IP7-4M support four MIPI cameras with some notable improvements over traditional MIPI. Uncompressed video streams are usually limited to 50cm cable lengths, but this model supports V-by-One SerDes technology to reach 25 meters (12 meters for 4k2k). The system uses an encoder chip at the MIPI V-by-One SerDes camera, and the ATC 3530 decodes the incoming video stream.
Dedicated to Demanding Applications
he ATC 3530 models are ideal for several demanding applications that require a combination of AI processing power and robust hardware.
• AI power IoT gateway compact, fanless, easy and quick to install, easy maintenance, AI inference without add-on cards, IP67 waterproof and dustproof
• In-vehicle OHV AI Edge recognition ANPR, car recognition, and other pattern recognition, low-speed autonomous machines, edge computing for local site machines, enhanced telematics and positioning, IGN control
• AI traffic sign control AI edge computing in an all-in-one embedded system, suitable for installation in a roadside cabinet
• Factory automation and machine vision multiple camera support, low power for autonomous trucks and robots, auto-inspection, AGVs and AMRs
Conclusion
The NEXCOM ATC 3530 is the ideal rugged computer for AI inference in harsh environments. With its NVIDIA® Jetson Xavier™ NX SoM, combined with a low-power, fanless, dustproof, and waterproof design, it's the system to bring your AI-powered in-vehicle applications to fruition.
Main Features
AI Edge in-vehicle computer
4-Ch MIPI SerDes, 1080p60/4Kp30 over 15m cable (ATC 3530-IP7-4M)
Built-in NVIDIA® Jetson Xavier™ NX SOM, up to 21 TOPS compute
4-port GbE PoE+ for IP CAM/LiDAR sensors (ATC 3530-IP7-4C)
HEVC/H.265 hardware CODEC, 32 x 1080p30 compute power
Wide range operating temperature of -30~70°C
The rugged, fanless design with IP67 rating
Ultra-speed PCIe 3.0 x4 NVMe SSD for data integry
NEXCOM Aided Linux (NAL) OS w/ JetPack4.5 integrated
Expansible for LTE/5G NR & Wi-Fi 5/6
9~36V DC-in with ignition control & OCP/OVP
CE/FCC, UKCA, Emark certified
Ordering Information
ATC 3530-IP7-4C (P/N: 10AT0353001X0)
IP67 rating AI edge compute, NVIDIA® Jetson Xavier™ NX SOM, 8GB LPDDR4, 16GB eMMC, 4 x GbE PoE, 1 x GbE, 2 x RS232, 2 x USB 3.0
ATC 3530-IP7-4M (P/N: 10AT0353000X0)
IP67 rating AI edge compute, NVIDIA® Jetson Xavier™ NX SOM, 8GB LPDDR4, 16GB eMMC, 4 x MIPI VBO, 2 x GbE, 2 x RS232, 2 x USB 3.0
CAM1-MT1080-IP7-15m (P/N: 10AT0108001X0)
IP67 rating MIPI VBO SerDes CAM, 1080p60, AP-AR0234GSC-ISP-S-SerDes, 15m
CAM1-MT720-IP7-15m (P/N: 10AT0072001X0)
IP67 rating MIPI VBO SerDes CAM, 720p30, AP-AR0144GSC-ISP-S-SerDes, 15m