To support the next Generation of IoT edge devices, a brand new industrial fanless embedded system NISE 53 is powered by Intel Elkhart Lake processors enhanced for IoT - the Intel Atom® x6000E series, and Celeron® J series processors. These processors build on new levels of CPU and graphics performance with integrated IoT features, real-time performance, manageability, security, and functional safety.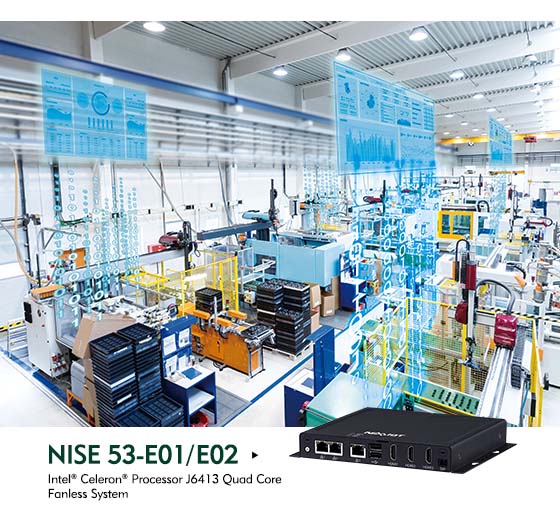 Intel Atom® x6000E Series and Celeron® J Series Processors for industrial IoT
NISE 53 powered by Intel® Celeron® processor J6413, 1.8 GHz offers 40% better CPU performance and improved graphics compared to previous Generation, also support Intel Atom® processor x6211E with different SKUs. NISE 53 features a 1 x DDR4 2133 SO-DIMM socket that supports up to 16 GB of memory. As for storage, several options are available - full-size mini-PCIe or front-access M.2 Key B slot - or choose an option to expand storage with onboard 32 GB eMMC.
Superior Graphics
NISE 53 takes a huge leap in graphics capabilities with Intel® UHD Graphics 16EUs and supports up to three simultaneous displays. Intel's Gen11 integrated GPU is ideal for 3D graphics and a wide range of GPGPU-driven applications as it supports major acceleration APIs such as DirectX 12, OpenGL 4.5, Vulkan 1.1, OpenCL 1.1, and metal.
Real-time Connectivity
Designed for industrial real-time applications, NISE 53 supports TSN (Time Synchronized Networking) - standards and capabilities based on standard Ethernet networks to support time-sensitive applications and supports time synchronization, timeliness for ultra-reliable low-latency communication, as well as traffic scheduling.
All you Need Peripheral Devices
NISE 53 peripheral connectivity ports include 3 x HDMI, 1 x Intel® I210 2GbE LAN port, 2 x Marvell SOC PHY Gbe LAN ports, 2 x USB 3.0 Type-A and 2 x USB 2.0 Type-A ports, 2 x RS232/485 with optional auto-flow control function.
Security at The Edge
NISE 53 Intel Atom® and Intel® Celeron® based fanless embedded system features integrated security functions. Intel® AES new instructions for wireless security, processor security, file encryption, and SSL/TLS. Intel® secure key is useful for Generating high-quality keys for cryptographic protocols. In addition, Execute Disable Bit ‡, Intel® OS Guard, and Intel® Boot Guard security features that can reduce exposure to viruses and malicious-code attacks, and prevent harmful software.
Front Accessible Storage and Even More Expansion Possibilities
NISE 53 offers expansion through one PCIe Generation. 3 and supports efficient scalable networks and storage configurations with an internal 1 x M.2 slot (Key B) for 4G LTE, 1 x full-size mini-PCIe slot for Wi-Fi and Bluetooth, and front-accessible 1 x M.2 slot (Key B) for storage. I/O ports include 3 x HDMI, 3 x Gbe LAN, 2 x USB 3.0, 2 x USB 2.0, 2 x COM.
Bringing AI and Machine Learning to Smart Manufacturing
These features make NISE 53 a safe option for AI and machine learning applications in industrial environments. To enable customers to build high-performance, intelligent vision solutions NISE 53 supports Intel® Media SDK and OpenVINO™ toolkit. Emulate human vision with OpenVINO™ toolkit for character and image recognition. Elkhart Lake hardware accelerated codecs can be used to offload media decode and encode workloads.
Extended Product Availability
NISE 53 is designed for high reliability and long service life. For processors, Intel® offers 10 years of continuous 24/7 operation (100% in sleep state S0), and currently, the standard availability of NexAIoT products is 10 years.
Main Features
Onboard Intel® Celeron® processor J6413
1 x DDR4 2133 SO-DIMM socket, support up to 16 GB
3 x HDMI (triple displays)
2 x USB 3.0, 2 x USB 2.0
1 x RS232, 1 x RS232/485 auto-flow function
3 x GbE LAN ports
Support TPM 2.0
1 x Front accessible M.2 Key B socket for storage/4G LTE/5G module
1 x Internal M.2 Key B socket for 4G LTE/5G module
1 x Mini-PCIe (full-size) socket support optional mSATA/Wi-Fi/BT/4G LTE module
Support operating temperature from -5 to 55 Celsius degree
Support +12V/24V DC input; support ATX power mode
Ordering Information
NISE 53-E01 (P/N: 10J00005300X0)
Intel® Celeron® processor J6413 quad core fanless system
NISE 53-E02 (P/N: 10J00005301X0)
Intel Atom® x6211E processor dual core fanless system
24V, 60W AC to DC power adapter w/o power cord (P/N: 7400060054X00)