Transportation computer designed for railway application requires stable network connection in order operation effectively. With the capability to carry massive passenger and freight traffic, the railway network is often the backbone of a country's transport network. The train running on railway can cause continuous vibration and extreme shock when a train is started or stopped. A reliable connection on computer and network is a must to insure 100% safety operation. Designed for the challenges of railway applications, NEXCOM's VTC 6201 transportation computer is equipped with dual SIM card slots and multiple screw-locked Ethernet ports which are designed to enhance signal and wiring connectivity.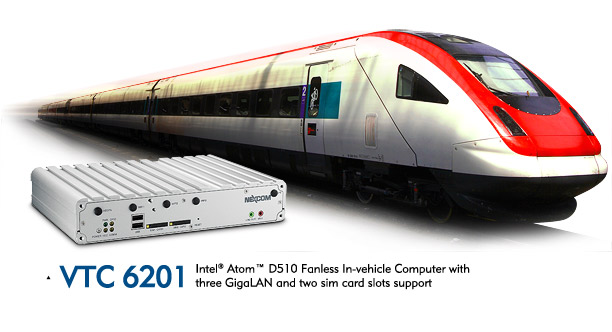 Dual SIM Card Slots Availability
3G signal strength is often considered a problem for people in rural or boarder areas mainly because of variations in signal coverage. To maintain connectivity in even remote areas, VTC 6201 in-vehicle computer with two SIM card holders, is able to automatically switch between two different network carriers thus optimizing signal connectivity. This feature is especially useful for journeys across different regions/countries or into areas where network connection is patchy.
Multiple Ethernet LAN Ports in M12 Connectors Support
The VTC 6201 is equipped with multiple Ethernet LAN ports with M12 connectors. This rugged industrial connector is fabricated from a robust metal construction, making it ideal for railway applications where connectivity is often lost due to extreme vibration and shock.
With built-in Intel® Atom™ D510 1.66Ghz processor, the VTC 6201 in-vehicle computer also supports dual core technology and has powerful video processing capability. For increased versatility, NEXCOM can provide a customized IP65 protection enclosure which is designed to the customers exact project requirements.
Main Features
Built-in Intel® Atom™ D510 dual core 1.66Ghz processor
Support two Ethernet ports in M12 connectors
Support 3G network with dual SIM card slots
8- 60V wide range DC power input