NEXCOM currently offers a versatile series of mobile NVR, including hybrid and IP security surveillance systems. This range has now been further broadened with the launch of the NViS 7280 Series, an NVR (network video recorders) security surveillance system with 2U rackmount chassis, featuring powerful computing multi-core processor to handle IP cameras up to 32 channels. Moreover, PCI expansion slot for PoE enhances simplified cabling environment and rich I/O interfaces make future configuration easy. The NViS 7280 Series is targeted at the project based NVR security surveillance market, such as banks and supermarkets.
NViS 7280 series includes:

1. NViS 7280 (G41 Bare System)

2. NViS 7281 (i5/ i7 Bare System)

- NViS 7280P4 (4 x Integrated PoE Ports)

- NViS 7281P4 (4 x Integrated PoE Ports)

- NViS 7280P8 (8 x Integrated PoE Ports)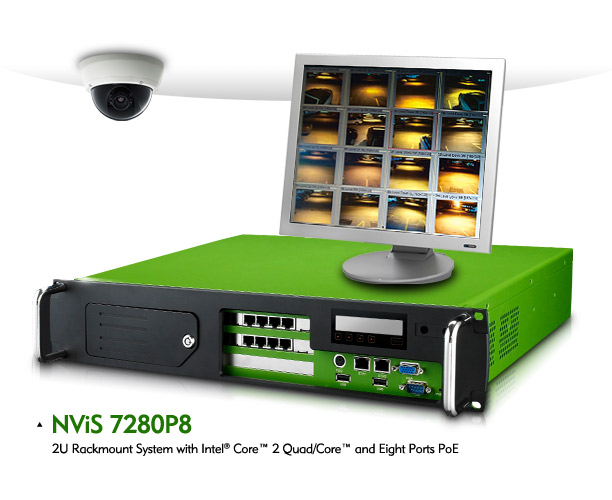 Powerful Intel® Core™ i7/i5 Processors Platform
The NViS 7281 is an advanced NVR surveillance system that features Intel® LGA1156 Desktop Core™ i7/i5 Pentium processors and supports 32 channels IP cameras with megapixel resolution. The NViS 7280 utilizes Intel® LGA775 Core™ 2 Quad/ Core™ 2 Duo/ Celeron® processors and can support 16 channels to NVR surveillance.
Integrated PoE Device Interface on Platform
The NViS 7280 series is equipped with flexible PCI expansion slot for PoE (Power over Ethernet) which effectively resolves issues relating to power cabling and power supply. With sufficient power supply of 15.4W per port of PoE PSE, it can power up most of IP cameras, as well as speed DOME cameras. NViS 7280P8 supports 8 PoE and 3 PCI slots whilst NViS 7281P4 offers 4 PoE and PCe/ PCIeX4/ PCIeX16.
Future Configuration Made Easy
With rich I/O interfaces, the NViS 7280 series makes future configuration possible, including two Intel® GbE ports, 1x COM port, 2x USB and 1x LCM device. By utilizing system software developed by NEXCOM, Xcare™, the NViS 7280 series supports self-diagnostic by monitoring system hardware status, including fan speed, temperature, voltage, Watchdog and GPIO control.
Intelligent NVR Application
Standard NViS 7280 series meets 90% of security surveillance market needs. With intelligent IVS design, NEXCOM NVR software (optional), the NViS 7280 series can fulfill all expectations for vertical markets by incorporating IP solution technology for NVR, such as intelligent video analytic, access control integration, video management and instant response. Not only that, NEXCOM NVR software is certified to vendor list to support the top 20 brands IP cameras and more.
Main Feature
2U rackmount chassis
2 x 16 character LCM module for NEXCOM Xcare™ hardware monitoring or customer self-programming
2 x 3.5" STAT HDD bay sockets
2 x Intel® 82574L GbE LAN ports
Optional NViS v1.53 Intelligent Surveillance Software Suite
Performance Benchmark
To connect IP cameras with H.264 codec and NViS NVR software, you can obtain the performance result based on following specifications.
CPU: Intel® i7-2600K 3.4GHZ
Memory: 8GB Dual Channel (2GBx4)
OS: Windows 7 64bit
Software Version: HV1.55.2011.603 + IP CAM Plugin 1.11.0601
IP Camera: AMTK 1.3 Megapixel
Resolution: 1280 x 1024
Frame Rate: 14- 15 FPS
Result
| | | | |
| --- | --- | --- | --- |
| Number of IP Camera | Resolution | FPS/RFPS | CPU |
| 32 | 1280 x 1024 | 460/460 | 28% |
Ordering Information
NViS 7280 (P/N: 90C00728000X0)
2U Rackmount System with Intel® Core™ 2 Quad/ Core™ and 3x PCI Expansion Slots
NViS 7280P4 (P/N: 90C00728002X0)
2U Rackmount System with Intel® Core™ 2 Quad/ Core™ and 4 Ports PoE
NViS 7280P8 (P/N: 90C00728001X0)
2U Rackmount System with Intel® Core™ 2 Quad/ Core™ and 8 Ports PoE
NViS 7281 (P/N: 90C00728100X0)
2U Intel® Core i7/i5/i3 LGA 1156 Platform With PCI/ PCIeX4/ PCIeX16 Expansion
NViS 7281P4 (P/N: 90C00728101X0)
2U Rackmount System with Intel® Core™ i7/ i5/ i3 Pentium LGA1156 and integrated 4 Ports PoE