The ICES 254 is a COM Express Type 2 Compact module supporting HDMI/DisplayPort interface. Featuring Intel® Atom™ dual core processor D2550 paired with Intel® ICH10R chipset, this COM Express module supports software RAID 0/1/5/10, up to 4GB DDR3 800/1066MHz SO-DIMM, and dual displays through VGA, LVDS, and HDMI/DisplayPort interfaces.
ICES 254, with the integrated Intel® Graphics Media Accelerator; delivers up to 1080P multimedia contents via a HDMI/DisplayPort interface. Although following COM.0 Rev 2.0 Type 2 pin-out specifications, this COM Express module supports HDMI/DisplayPort signals when configured with a NEXCOM EBK-A2HDMI riser card. This can be added to NEXCOM's in-house design customer reference board (CRB) ICEB 8050C via PCIe x16 slot.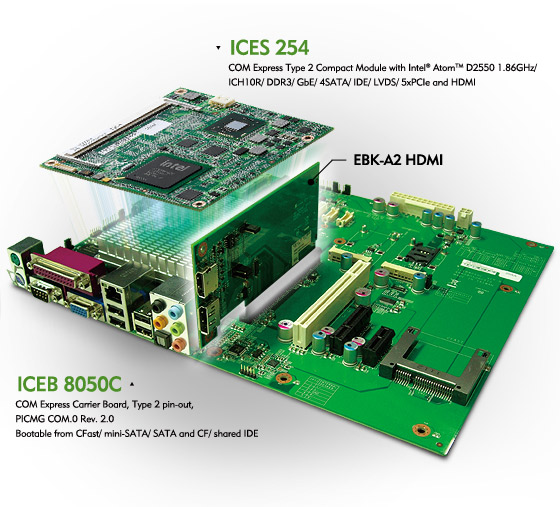 The ICES 254 also supports single channel 24 bit LVDS with WXGA+ resolution of 1440x900 and VGA with WUXGA resolution of 1920x1200@60Hz.
Cold start is another key feature of ICES 254 which can boot up at temperatures as low as -15°C to adapt to critical environment conditions.
A new Type-2 pin-out carrier board ICEB 8050C is released along with ICES 254. ICEB 8050C, as a CRB following COM.0 Rev 2.0 specifications, offers full I/O options including 1x VGA, dual channels 18/24-bit LVDS, 1x PCIe x16, 1x PCIe x4, 1x PCIe x1 and 1x legacy PCI slots.
The evaluation carrier board ICEB 8050C has one legacy 44-pin CF interface shared with IDE and two SATA interfaces- with one designed as bootable mini-SATA supported by internal half-/full-size dedicated (CN8) mini-PCIe/ SATA and another designed as CFast supported by bootable external (CN11) push-pull CFast socket. ICEB 8050C provides a standard mini-PCIe (USB) slot for optional Wi-Fi module or SIM card holder for wireless communication.
To benefit our design partners from NEXCOM COM Express design-in services, NEXCOM COM Express Competence Center (CCC) is going to provide a Type 2 pin-out starter-kit pre-configured system ICEK 254. ICEK 254 is integrated with ICES 254 (D2550/ ICH10R), ICEB 8050C (bootable mSATA/ CFast), 10.4" LCD panel and Flex-ATX PSU, altogether in one suitcase. Also, it will provide detailed design documentation, NEXCOM design guide, referent schematics ready and thermal solution guide to assist with customized carried board development for target applications.
Main Features
Intel® Atom™ Dual Core processor D2550, 1.86GHz
Intel® ICH10R to support Intel® Matrix Storage RAID 0/1/5/10
1x DDR3 SO-DIMM socket up to 4GB
Bootable mini-SATA/ or CFAST
Type 2, COM Express compact size to support 5 Express lanes
Legacy PCI interface, CF/ shared IDE, Gigabit LAN and HDMI/ DP
Ordering Information
ICES 254 (P/N: 10K00025400X0)
COM Express Type 2 compact module with Intel® Atom™ D2550 1.86GHz/ ICH10R/ DDR3/ GbE/ 4SATA/ IDE/ LVDS/ 5x PCIe and HDMI
ICEB 8050C (P/N: 10KB0805001X0)
COM Express Type 2 R2.0 evaluation carrier board with PCIe/ PCI/ SATA/ CF/ mPCIe/ IDE/ COM/ USB/ VGA/GbE, bootable mini-SATA/ CFAST, ATX input
EBK-A2 HDMI (P/N: 10EA2HDMI00X0)
ADD2 module of ICES 254 with ICEB 8050C for HDMI/ DP Display interface card