NEXCOM's 1U network security appliances, NSA 5130, NSA 5130HA and NSA 5131 are faster, more reliable and secure than before with its new upgrade to Intel® Xeon® Processor E3-1200v2 Family. This new update will further enhance network and computing performance, support newer security features, and improve bandwidth utilization—all with lower power consumption. Therefore, they are the ideal platform for high-end Unified Threat Management (UTM), next generation firewalls, network routers, WAN optimization and all types of network security applications.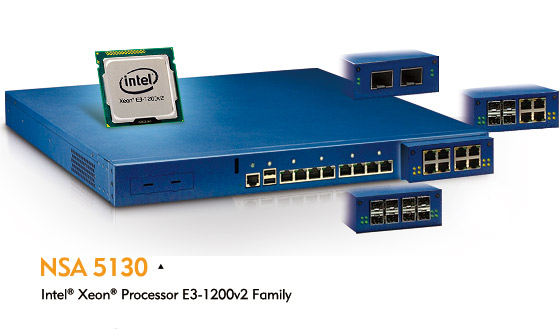 The upgraded network security appliances can further secure business assets using the latest technology from the Intel® Xeon® Processor E3-1200v2 Family. Advanced security features such as automatic data correction, Intel® OS Guard, Intel® Secure Key, Intel® AES-NI and Intel® TXT will protect network and crucial data while delivering unsurpassed performance and reliability.
Using Intel® Xeon® Processor E3-1200v2, users can enjoy up to 32% performance-per-watt gain compared to previous generation processors. In addition, the Tri-gate transistor technology incorporated in 22nm processors reduces energy consumption by 50%, effectively increasing the products' longevity, which lowers overall hardware maintenance and utility cost. Furthermore, a PCIe x8 expansion slot is included as an option to add extra security measures or network performance.
Highly customizable, NSA 5130 series can be fitted with swappable LAN modules with port combinations of eight coppers, eight SFPs, four coppers and SFPs, four SFPs and two 10Gbps SFP+ modules along with the existing eight GbE copper ports. The 10Gbps connection provides large headroom for growth, great networking performance, making it perfect for backbone networks. While NSA 5131 packs 6GbE copper ports along with two flexible, GbE fiber ports that support both single mode and multimode variants.

To safeguard business continuity, NEXCOM's appliances feature innovative Dual Latch LAN bypass function, ensuring network availability in the event of power outages. Our Dual Latch feature gives network administrators the flexibility to enable or disable LAN bypass at power on and off state. To reach the utmost level of uninterrupted operation, NSA 5130HA is built with dual redundant, modular power supplies for extended reliability and availability.