NEXCOM has launched a new series of vehicle terminal composed of VTC 7110-B, VTC 7110-D1, and VTC 7110-C4 with the aim to keep mobile users "always connected". Based on 2nd generation Intel® Core™ processor i7 2610UE, the VTC 7110 series boasts several advanced features which make it ideal for in-vehicle applications, and with unrivalled computing power, exceptional graphics handling capability, this platform is perfect for use in most in-vehicle environments. With flexible I/O expansions, this series can also be deployed with heavy-duty vehicles and mobile surveillance applications. The vehicle terminal series VTC 7110 with integrated computing capability, seamless mobility, remote manageability, flexibility expansion along with superb product reliability will certainly kick-start your business into top gear.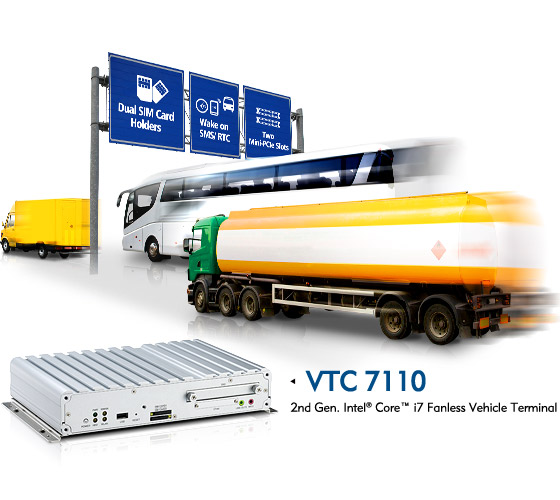 The VTC 7110 series are NEXCOM's new high performance vehicle terminals powered by 2nd generation Intel® Core™ i7 2610UE 1.5GHz processor. With the VTC 7110 series, advanced features which are usually optional on most vehicle terminals, are included within the standard configuration. Dual SIM card holders, wake on SMS/ RTC, and two mini-PCIe slots are all supported to maximize the mobility within mobile environments. This series also allows users to install either 3.5G and Wi-Fi modules or two 3.5G modules. Other than the selected set of features, VTC 7110-B has one external SATA HDD bay and CFast socket for quick storage unit replace and two LAN ports for network redundancy.
In addition, VTC 7110-D1 has eight input and eight output channels, a total of sixteen channels of GPIO. Isolated RS-232 and RS-422/485 interfaces and CAN bus protocol SAE J1939/1708 are also supported by VTC 7110-D1. Perfect for fleet management, VTC 7110-D1 eliminates problems caused by inrush current/voltage, establish reliable vehicular communication network and facilitate monitoring of vehicle subsystem.
The second variant VTC 7110-C4 features four channels of Power over Ethernet. Combining signal transmission and power supply, this vehicle terminal reduces the numbers of cables laid and streamlines system deployment. Ethernet-based devices supporting 802.3af protocol, such as high resolution IP cameras, can directly connect to VTC 7110-C4 with just one Ethernet cable. Targeted at mobile surveillance, VTC 7110-C4 can be best utilized when its two hot swappable SSDs are configured as data disks, and CFast system disk.
Main Features
2nd generation Intel® Core™ i7 2610UE 1.5GHz processor
Two Ethernet LAN ports
Optional SAE J1939 or J1708 port
Optional 4-channel PoE
Optional isolation digital input and output
Removable 2.5" SSD tray
9~36V wide range DC power input
Smarter ignition power on/off, delay-time and low voltage protection
Rugged fanless design to meet MIL-810F anti-vibration and shock standard
Ordering Information
VTC 7110-B (P/N: 10V00711000X0)
Intel® Core™ i7 1.5GHz processor, 2GB DDR3, built-in GPS module, DB26 for proprietary LVDS and 2 DB9 in support RS-232 and RS-485/422
VTC 7110-D1 (P/N: 10V00711001X0)
VTC 7110-B with isolation serial ports, digital inputs and outputs, and CAN bus in support SAEJ1939 /1708 support
VTC 7110-C4 (P/N: 10V00711002X0)
VTC 7110-B with 4-channel PoE and additional one 2.5" SSD tray