VMD 1000 is a 7" in-vehicle display which incorporates an automatic screen brightness adjustment feature. The industrial grade high brightness, 500 cd/m2, LCD panel is equipped with a daylight readable LED backlit which allows trouble free viewing in various environmental conditions.
To allow a multitude of applications to be addressed, VMD 1000 incorporates audio speakers, an SD/ MMC/ MS card reader and support for USB. In addition, options such as a 2.0M pixels CCD camera, daylight-readable touch screen (4 wires resistive w/ anti-glare coating) and VESA mounting kit are also available.
The front panel of VMD 1000 is compliant with IP54 standards, giving it protection against dust ingress and water spray. With IP54 certificate, the VMD 1000 differentiates itself with other consumer monitors and is therefore ideal for use in environments where harmful dust or contaminants might be present such as in-cab deployments. With 26-pin LVSD connection, VMD 1000 is the perfect companion to a variety of in-vehicle computer systems including NEXCOM's industry leading VTC series. It is the comprehensive solution that mobile workforce is looking for.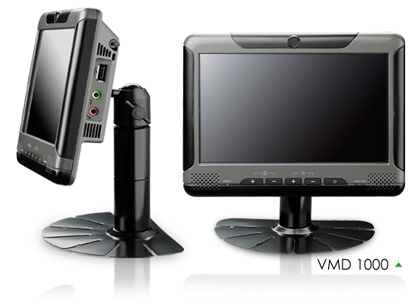 Main Features
7" WVGA TFT LCD monitor
Automatic/ manual brightness control
Remote system power control
On screen control button
Support USB 2.0 and card reader
Front panel compliant with IP 54
Camera sensor on front panel (optional)