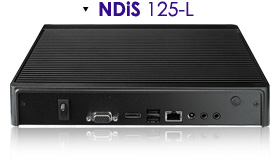 NEXCOM has introduced a powerful digital signage player known as NDiS 125-L, which because of it's fanless design, boasts an extended product life span and superb reliability.
NDiS 125-L is powered by 1.8GHz Intel® Atom™ D525 Dual Core processor. This advanced Intel® based technology boasts 50% better performance than the previous generation of Atom™ N270 CPU, with only a small increase in power consumption. Hyper threading is simultaneously supported for multi-display. Equipped with NVIDIA ION2 GPU, the NDiS 125-L is capable of supporting 1080P video playback.
NEXCOM's NDiS 125-L is housed in a maintenance-free fanless chassis which reduces moving parts and therefore increases component life span. Users thus benefit from a lower TCO (Total Cost of Ownership) yet industrial grade reliability. NDiS 125-L is an ideal solution for advertising, hospitality, branding, and digital menu board applications.
Outstanding Graphics Performance of Nvidia ION2
NVIDIA Optimus technology gives NDiS 125-L the ability to enable and disable the discrete graphics chip nearly instantly and without user interaction. This means that applications that can utilize the power of the GPU (games, flash video, GPU computing programs for transcoding, etc) will be able to access that resource without forcing the user to reboot the system or close out their other programs as they would have had to do previously. Compared to ION, ION2 also has better performance in 3D Mark testing.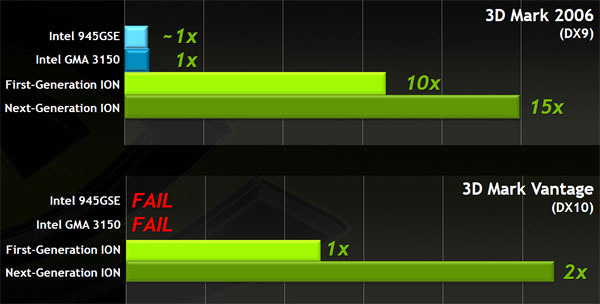 Main Features
Intel® Atom™ D525 Platform
Low Power Consumption
Powerful NVIDIA ION2 GPU
Hyper-Threading Support
VGA and HDMI Output