NEXCOM, a leading supplier of network appliances and Industry 4.0 solutions, installed next generation Industrial Control System (ICS) security appliances at its own Smart Factory. ISA 140 is a compact fanless DIN rail box, designed to protect key assets in an industrial setting. Powered by a dual-core Intel Atom® x6212RE processor (formerly: Elkhart Lake), ISA 140 features Ethernet connectivity via six LAN ports and offers additional Wi-Fi/LTE kits to expand use cases to wireless applications. Security is further enhanced by the built-in TPM while the Out-of-Band remote management feature offers prompt problem solving and easy maintenance.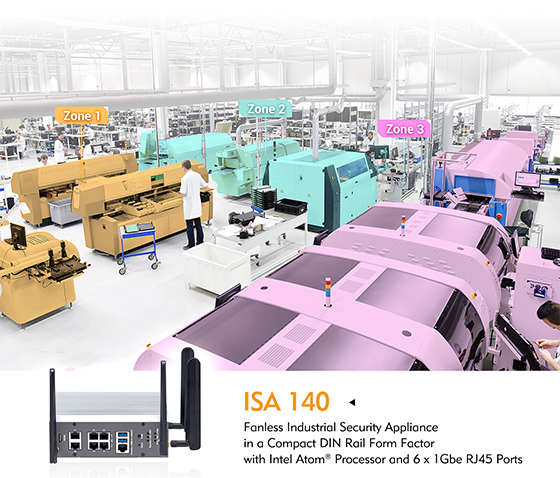 To secure the OT network at NEXCOM Smart Manufacturing Site, multiple units of ISA 140 were deployed at key points throughout the factory. The installation of ISA 140 was a relatively quick process and didn't require shutdowns of factory equipment or extensive infrastructure upgrades. The eSAF cybersecurity software package was installed on these ICS security appliances, providing good network visibility and allowing the factory OT team to monitor and inspect network traffic. This integrated solution builds a micro-segmented & zero-trust network to safeguard factory equipment from attacks and prevents malware from spreading among devices.
The benefits brought by this test deployment inspired NEXCOM to further develop an ICS security product line for different application scenarios in modern factories. While the currently available ISA 140 is perfect for protecting key assets and isolating between network segments, upcoming products will mostly concentrate on wireless connectivity & delay-sensitive communication between devices.