NEXOCM 2U security hardware NSA 7135 helps enterprises manage network threats with speed, flexibility and simplicity. Based on Intel® Xeon® E5-2600 v3 processors, the NSA 7135 can hold up to eight LAN modules with a maximum throughput of 320 Gbps, and supports Gen. 3 PCIe interface and CRPS redundant power supply. The security hardware allows enterprises to shore up their defense with high responsiveness, function enhancements, and ease of maintenance throughout the product lifecycle.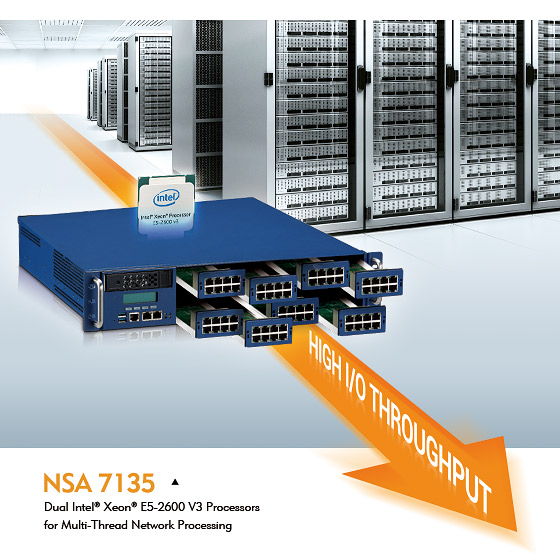 Designed to handle the hustle and bustle of enterprise networks, the NSA 7135 is 2U server-class security hardware built with two Intel® Xeon® E5-2600 v3 processors, each having up to eighteen cores. The NSA 7135 supports up to 512GB of the latest DDR4 SDRAM and as many as eight LAN modules. Together with NEXCOM LAN module NI and NX series, this 2U security hardware can be flexibly configured with interfaces including 1, 10, and high speed 40 Gbps which offers an ideal outlet for outgoing connection.
As network traffic ballooning, the NSA 7135 delivers performance enhancement in computing power, system responsiveness, and data throughput, compared with the previous generation 2U NSA models. Furthermore, the NSA 7135 has one Gen. 3 PCIe x8 slot for implementation of hardware-accelerated functions such as RAID or SSL/IPSec encryption to bolster the security of enterprise networks.
All advancements combined not only enable the NSA 7135 to provide UTM and firewall protection to fend off pervasive threats in dynamic enterprise network environments. These advancements also make possible server consolidation, reducing the amount of servers and energy use of server rooms. Lastly, the redundant power supply of the NSA 7135 is changed from proprietary modules to standardized CRPS design in an effort to facilitate server maintenance throughout the product lifecycle for network administrators.
Main Features
Dual Intel® Xeon® E5-2600 V3 processors
Support up to 512GB of DDR4 1866/2133 with ECC & REG
Support up to 8 PCIe LAN modules
Support swappable 3.5" SATA/SAS HDD
Support CRPS (1 + 1) redundant power supply
Support LCD module
Ordering Information
NSA 7135 (P/N: 10S00713500X0)
2U Intel® Xeon® E5-2600 v3 PCH C612 , with LCM, 1 swappable 3.5" HDD tray,3 swappable system fans, 8 LAN module (NI/NX series) bays, 700W PSU
NX 140F (P/N: 10S20140F01X0)
Intel® XL710-AM1 10GbE module 4 fiber ports by PCIe x8 interface with PKG
NX 142F (P/N: 10S20142F01X0)
Intel® XL710-AM1 10GbE module 4 fiber ports with 2 bypass segment (multi mode) by PCIe x8 interface with PKG
NI 140F (P/N: 10SK000NI02X0)
Intel® I350 module 4 fiber ports with PCIe x8 interface with PKG
NI 180F (P/N: 10S10180F01X0)
Intel® I350 module 8 fiber ports with PCIe x8 interface with PKG
NI 142C (P/N: 10SK000NI03X0)
Intel® I350 module 4 copper ports with 2 bypass segment by PCIe x8 interface with PKG
NI 180C (P/N: 10S10180C01X0)
Intel® I350 module 8 copper ports by PCIe x8 interface with PKG
NI 184C (P/N: 10S10184C01X0)
Intel® I350 module 8 copper ports with 4 bypass segment by PCIe x8 interface with PKG
NI 142F (P/N: 10S10142F01X0)
Intel® I350 module 4 fiber ports with 2 bypass segment by PCIe x8 interface with PKG
NI 121F (P/N: 10S10121F01X0)
Intel® I350 module 2 fiber ports with 1 bypass segment by PCIe x8 interface with PKG