NEXCOM factory automation controllers, the NIFE 200 series, forge cyber-physical links to ready factories for smart, connected manufacturing. Aimed at manufacturing process control, the NIFE 200 series features openness for SoftPLC/SoftMotion control, PC applications, industrial communication support, and internet connectivity. The NIFE 200 series enables the full integration of automated manufacturing processes, giving a new face to the future of manufacturing.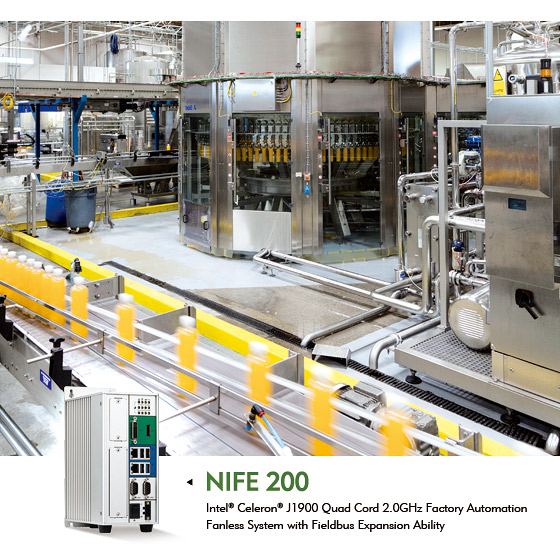 Based on PC architecture, the factory automation controller NIFE 200 series features scalable computing performance with a choice of Intel® Celeron® processor J1900 and Intel® Atom™ E3800 processors. The NIFE 200 series supports real-time control and SoftPLC/SoftMotion functions for use in a wide variety of processes including filling, dispensing, labeling, packing and many more. If configured with cameras and scanners, the NIFE 200 series can be applied to defect inspection for enhanced quality control, or to documentation of production records by reading barcodes and product serial numbers.
To realize above factory-wide automation, the NIFE 200 series provides two mini-PCIe slots to extend support for industrial communication protocols. Available fieldbus modules include PROFIBUS®, PROFINET®, DeviceNet®, CANopen®, SERCOS® III, EtherNet/IP®, and EtherCAT® master. Connection to peripherals and sensors can also be established with COM, USB, and optional GPIO ports.
For HMI applications, the NIFE 200 factory automation controllers can be paired with JMobile Suite which provides local control and remote monitoring capability. With internet access over GbE LAN and 3G/Wi-Fi, factory operators can oversee different automation processes, having a holistic view of on-line activities. A local copy of manufacturing logs can also be saved to a SD card, HDD/SSD, or mSATA drive, helping manufacturers build trackability and traceability of products required by regulatory compliance standards.
The NIFE 200 factory automation controllers come with a streamlined model of NIFE 200 and the NIFE 200P, a variant with two PCI expansion slots.
NIFE 200 Highlights
Hardware Features

Onboard Intel® Celeron® processor J1900
2x RS232/422/485, 3x USB 2.0 & 1x USB 3.0
Dual independent display with DP and DVI-I outputs
2x GbE LAN ports with WoL, teaming and PXE support
2x Mini-PCIe sockets for optional Wi-Fi/3.5G/4G LTE/Fieldbus modules
Support -5 ~ 55 degree C operating temperature
Typical 24V DC input with +/-20% range

Controller Features

SoftPLC/SoftMotion: CODESYS SoftMotion
Web-based HMI: JMobile Suite
Fieldbus connectivity: PROFIBUS®, PROFINET®, DeviceNet®, CANopen®, SERCOS® III, EtherNet/IP®, and EtherCAT® master
Control I/O modules: VIPA SLIO Series
Ordering Information
NIFE 200 (P/N: 10J70020000X0)
Quad-core Intel® Celeron® processor J1900 fanless system 2.0 GHz
NIFE 200P2 (P/N: 10J70020001X0)
Quad-core Intel® Celeron® processor J1900 fanless system 2.0 GHz, 2x PCI expansion slots
24V, 60W AC/DC power adapter w/ o power cord (P/N: 7400060024X00)