The latest NEXCOM railway computer nROK 5500 is tailed to host a multitude of train based applications including onboard surveillance, internet access service, and passenger infotainment systems. The EN50155-certified nROK 5500 features powerful Intel® Core™ processors, three 3G and Wi-Fi connections, eight Power-Over-Ethernet ports for IP surveillance cameras, large data storage, robust fanless rackmount enclosure, and extended operating temperature support. The nROK 5500 is a perfect solution to help railway service providers keep passengers connected, entertained and safeguarded aboard.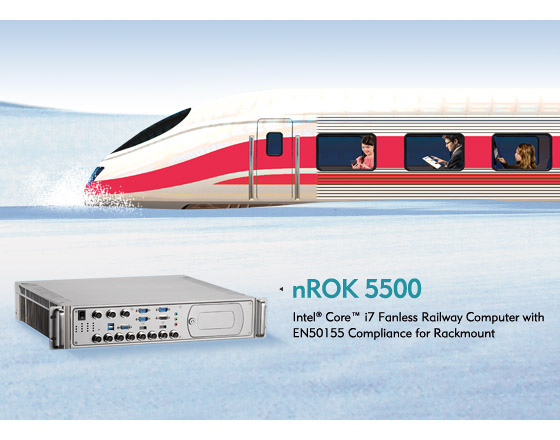 The nROK 5500 consists of the 3rd generation Intel® Core™ processors integrated with Intel® HD Graphics 4000 and up to 16GB of DDR3 1333/1600 memory. Given four removable SSD trays with RAID function, the nROK 5500 can reliably store and stream high volume high quality on-demand videos and music to hundreds of passengers. The railway computer can also capture and record high definition surveillance videos from multiple IP cameras over PoE.

To accommodate the need for high speed internet, the nROK 5500 provides up to three concurrent 3G/Wi-Fi network connections through mini-PCIe expansion. This railway computer offers high bandwidth to allow for onboard internet service, real-time data transmission, multiple data streams of train status, and off-hour system updates.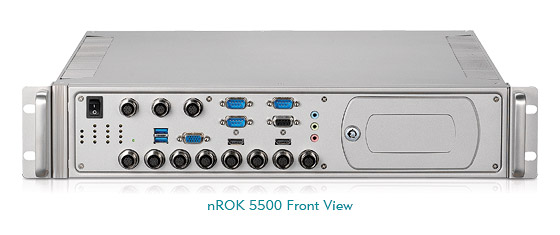 The EN 50155-certified nROK 5500 has passed rigorous tests. Using cables with secure lock mechanism on all connectors, the nROK 5500 ensures steady connection to peripherals despite vibration. Moreover, this fanless railway computer can withstand dust and temperature ranging from -40 to 70 degree Celsius, according to EN 50155 Class Tx criteria.

The nROK 5500 can take 24VDC or 110VDC power input from trains. Power systems of 36V, 48V, and 72V are also supported as an option.
Applications
Rapid transit system
Metropolitan rail
Commuter rail
High speed rail
Tram
Train
Main Features
High performance: 3rd generation Intel® Core™ i7/ i5 processor
Smart power management: support ignition controlled power On/Off with programmable delay-timer
Expandable and reliable storage: 4x removable 2.5" SSD with RAID 0/1/5/10 support
Secure and isolated RS-232/422/485, GPIO and 24/110 VDC power input
Integrated: built-in 8 channels of IEEE802.3af compliant PoE switch ports
Flexible: up to 3x miniPCIe sockets and 1x PCIe x8 slot for I/O expansion
Certified by EN50155 with Tx grade operation temperature
Ordering Information
nROK 5500-FC (P/N: TBD)
Intel® Core™ i7 3517UE fanless rackmount railway computer and 110VDC isolation power input
nROK 5300-FC8 (P/N: 10A00550000X0)
Intel® Core™ i5 3610ME fanless rackmount railway computer with 8-channel PoE and 110VDC isolation power input
nROK 5300-FC (P/N: TBD)
Intel® Core™ i5 3610ME fanless rackmount railway computer and 110VDC isolation power input
nROK 5300-AC8 (P/N: 10A00530000X0)
Intel® Core™ i5 3610ME fanless rackmount railway computer and 24VDC isolation power input