NEXCOM NDiS M323 is a cost-effective OPS-compliant 1080P media player that integrates advanced graphics capability and remote manageability, bringing budget users the premium features mostly found on premium-priced players. Based on the Intel® Celeron™ Processor J1900 (formerly codenamed "Bay Trail"), the NDiS M323 features quad-core Intel® architecture processor, accelerated multimedia performance, OPS-compliant form factor, remote maintenance and repair function, and peripheral expansion. This OPS media player is designed to facilitate the adoption and management of interactive media solutions ranging from digital signage to digital whiteboard.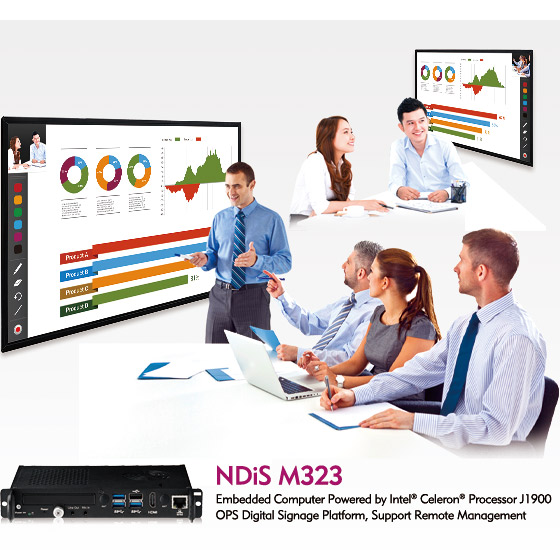 To enhance system responsiveness, NEXCOM has built NDiS M323 with quad-core SoC Intel® Celeron™ Processor J1900 integrated with Intel® Gen 7 Graphics. This 1080P media player supports Microsoft DirectX® 11 and broad video formats. Combining up to 8GB of DDR3 1333 memory, the NDiS M323 is capable of fast video conversion and sharp 3D graphics processing to play multiple high-definition videos on two displays while running applications in the background. Using Intel® Turbo Boost Technology, this 1080P media player can provide extra processing power to facilitate interactions between retailers and customers, teachers and students, and meeting attendees.
As an OPS-compliant media player, the NDiS M323 can be plugged into OPS-compliant devices without using cables, simplifying hardware integration and increasing hardware compatibility. In addition, the NDiS M323 offers out-of-band remote manageability. With internet connection, the player can be remotely monitored, recovered and reset even when the power is off or operating system not loaded. This feature assists the IT staff to oversee multiple players installed at multiple locations, improving not only system availability but also management efficiency.
Furthermore, the NDiS M323 provides one mini PCIe expansion slot integrated with SIM socket. The NDiS M323 can be configured to support multiple choices of wireless connectivity, including Wi-Fi, Bluetooth, 3G and LTE, or to connect to other audio/video sources, for instance, Radio, TV tuner, and analog videos. The NDiS M323 also has four USB 3.0 ports to connect to an array of off-the-shelf peripherals, including NFC reader and web camera.
NEXCOM OPS Media Player will be available after December 1, 2013.
Main Features
Intel® Celeron® Processor J1900
Integrated Intel® Gen 7 Graphics
Dual SO-DIMM slots for up to 8GB of DDR3 1333 memory
Comply with Open pluggable specification
Out-of-band remote management
Four USB 3.0 ports
One mini-PCIe socket
Ordering Information
NDiS M323 (P/N: 10W00M32300X0)
Intel® Celeron® Processor J1900 SoC OPS