NEXCOM NDiS 126 is a compact, yet powerful, 1080P media player, which is aimed at budget sensitive users. This cost-effective digital signage player is based on new Intel® Atom™ processor D2700. It comes with enhanced graphic engine and video decoder and therefore is powerful enough to support Full HD 1080P contents on dual independent displays.
Equipped with a multitude of I/O options, the NDiS 126 is perfect for connection to the internet and for streaming various TV content. In addition, the sophisticated mechanical design makes this digital signage player extremely durable and therefore perfect for use in extreme environments where dust or grime is present.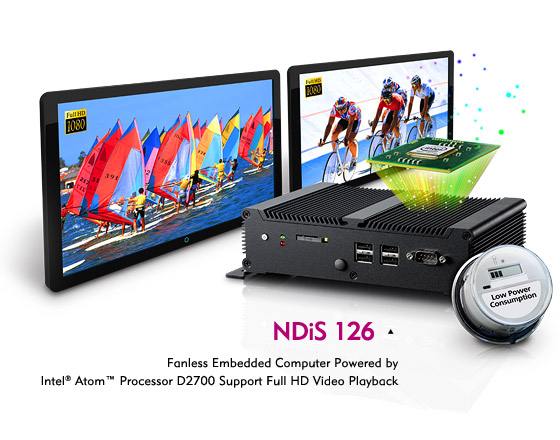 NDiS 126 based on Intel's latest technology is powered by Atom™ processor D2700 with Intel® Graphics Media Accelerator 3650. The 1080P media player with HD decoder supports video formats including MPEG2, H.264 and VC-1 with resolution up to Full HD 1080P. NDiS 126 is able to deliver a more enjoyable media experience whilst draw less energy.
The digital signage player can support two separate displays. Besides the default HDMI port, an additional HDMI or VGA output is also available. NDiS 126 can be configured with a HDMI, or two HDMI, or a HDMI and a VGA, allowing systems integrators to serve users with different preferences.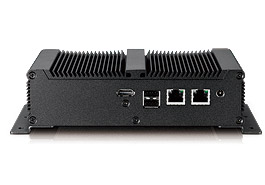 In addition to superb graphics performance, NDiS 126 also manifests extendibility. The player accommodates one Mini PCIe slot, a SIM card holder, two GbE LAN ports, and six USB ports. Users can leverage the options to acquire real-time status, perform immediate update, download the latest contents to the player remotely, and provide undefined contents such as TV programs.
NDiS 126 comes in small packages. The hermetic aluminum chassis measures 185mm in width, 147mm in depth and 48.4mm in height. It also dispatches heat more efficiently than SECC housing. Moreover, to prevent the storage unit from premature failure, NDiS 126 has 2.5" HDD securely abutted on brackets. Along with fanless design, the 1080P media player is nothing if not reliable and is impervious to environmental threats such as dust, vibrations, moisture and temperatures.
NEXCOM will exhibit NDiS 126 at 2012 ISE show from January 31 to February 2, 2012 in Amsterdam, Netherland. Experience the amazement of NDiS 126 in person at exhibit booth 10R142, Hall 10, Amsterdam RAI. [More Information]
Main Feature
Intel® Atom™ processor D2700
Low power consumption
Compact and fanless
Dual GbE LAN
Hyper-Threading support
Intel® GMA 3650 Integrated Graphic Engine
Ordering Information
NDiS 126 (P/N: 10W00012600X0)
Intel® Atom™ Processor D2700
Intel® NM10 Express Chipset
NDiS 126H (P/N: 10W00126H00X0)
Intel® Atom™ Processor D2700
Intel® NM10 Express Chipset
Additional HDMI Output
NDiS 126V (P/N: 10W00126V00X0)
Intel® Atom™ Processor D2700
Intel® NM10 Express Chipset
Additional VGA Output